DISNEY IN SCOTLAND, LOCATION OF GREYFRIARS BOBBY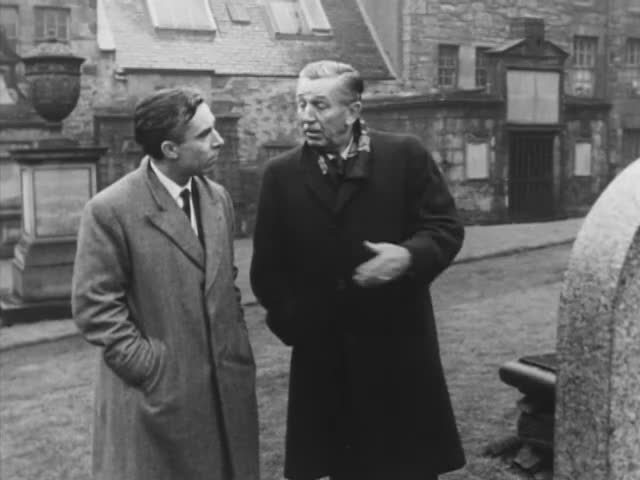 This video is not available to view remotely
Full length video - onsite only
Please read Understanding catalogue records for help interpreting this information and Using footage for more information about accessing this film.
Title: DISNEY IN SCOTLAND, LOCATION OF GREYFRIARS BOBBY
Reference number: T0805
Date: 1960
Production company: Scottish Television
Sound: sound
Original format: 16mm
Colour: bw
Fiction: non-fiction
Running time: 18.00 mins
Description: T.V. Documentary from 1960, interview with Walt Disney on location in Edinburgh discussing his latest Scottish project the film "Greyfriars Bobby". Also interviews with some of the actors in the film on location in the Borders.
Shotlist: [DISNEY IN SCOTLAND, LOCATION OF GREYFRIARS BOBBY] : No credits, Iv with Walt Disney beside Mons Meg on the ramparts of Edinburgh Castle, discussing his productions & in particular the location shooting of Greyfriars Bobby(5.36) Iv with Walt Disney in Greyfriars Churchyard which was used as a location during the filming, discussing the location scenes & the other Scottish set films Disney have made (8.48) academy leader(8.58) Slates of Iv with Alex MacKenzie (who plays Old Jock in the film) in costume on location in the Borders(12.00) shots of filming inside a farm building with Gordon Jackson & the dog, shots of film crew in action(13.22) separate commag roll, c/u of cameraman in action(13.32) Iv with Gordon Jackson on location in costume, interviewer is John ?(15.12) separate mute roll, Neg stock of gv's of Edinburgh streets & castle(15.59) Pos stock of location shooting(17.02) academy leader(17.12) Neg stock of the old wynds of Edinburgh; Vennel, West Bow(18.00).