EVERY SECOND COUNTS Scottish Lifeboats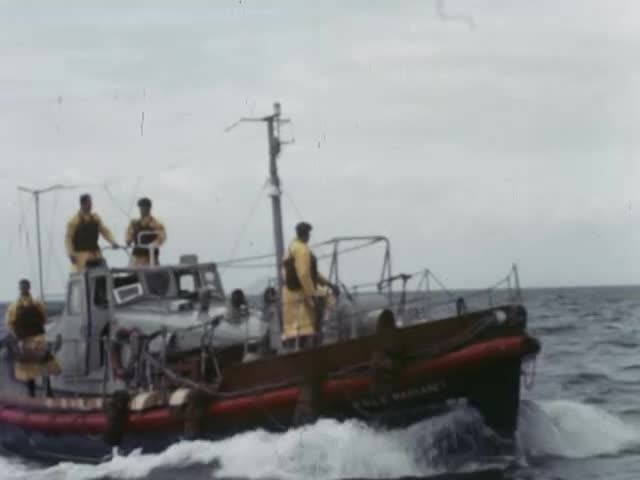 This video is not available to view remotely
Full length video - onsite only
Please read Understanding catalogue records for help interpreting this information and Using footage for more information about accessing this film.
Title: EVERY SECOND COUNTS Scottish Lifeboats
Reference number: T0754
Date: 1966*
Director: d. William J. Guild
Sponsor: Royal National Lifeboat Institution (RNLI)
Sound: sound
Original format: 16mm
Colour: col
Fiction: Non-Fiction
Running time: 16.02 mins
Description: Documentary about the Royal National Lifeboat Institution's new Inshore Rescue Boats and stations around the British coast, including a series of reconstructed rescue operations.

[Please note the viewing copy may display some visible defects such as flicker.]
Credits: Made with the co-operation of the officials and crews of the following Inshore Rescue Boat Stations... Broughty Ferry, Kinghorn, Largs, Mudeford, Seahouses.

Shotlist: (0.00) blank (0.03) credit & title - gv of Broughty Ferry lifeboat and crew on water (0.51) gv of sea resort, seaside and harbour (1.30) gv of abandoned boat with figure of man floating in water face down - gv of int and ext of lifeboat and shots of helicopter (2.03) c/u of newspaper cuttings about accidents at sea - gvs of coastline - gv of ints of new Inshore Rescue Boat and establishing shot of new I.R.B. Stations - gvs Mudeford IRB station - mock rescue sequence of women swimmer in difficulty, woman sets off flare (6.01) gv of mock rescues, including towing a sailboat,woman drifting on a lilo, dropping a doctor off to help an injured man on coastline (8.07) gv of ferry boat and I.R.B. in Broughty Ferry - gvs of mock rescues (11.26) gv of rescue of fishing boat towing it into harbour (10.34) gv of fisherman on coastline being swept into sea (12.57) gv of mock rescue of girl from capsized dinghy (13.44) gv of mock rescued boatman who had lost his oar (14.48) gv of mock rescue from sea of three people - gvs of I.R.B. in water - ecs - THE END (15.54) blank (16.02)