CROFTER / GUN DOGS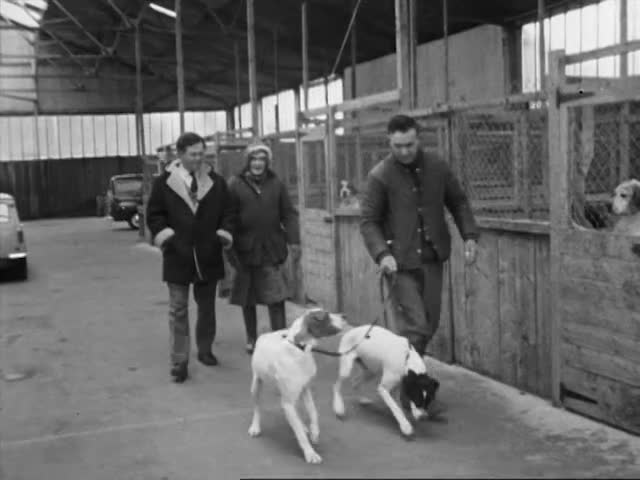 This video is not available to view remotely
Video 1

(currently displayed video)

Full length video - full length available onsite

Reporter Bill Tennent helps a crofter to dig peat at Shawbost (?) on the island of Lewis. (clip - full length available onsite)

Lady Auckland talks to reporter Bill Tennent about the training of gun dogs on the Cromlix Estate. (clip - full length available onsite)
Please read Understanding catalogue records for help interpreting this information and Using footage for more information about accessing this film.
Title: CROFTER / GUN DOGS
Reference number: T0713
Date: 1966c
Director: d. Geoff Rimmer
Production company: pc Scottish Television
Sound: sound
Original format: 16mm
Colour: bw
Fiction: non-fiction
Running time: 27.49
Description: T.V. Documentary. First half of programme being a portrait of an individual crofter and the crofting lifestyle in general on the Isle of Lewis during the mid 1960's. Second half of programme dealing with the subject of gun dogs on a Perthshire Estate, dealing with the training and hunting techniques used by the Lady of the Estate, again during the mid 1960's.
Credits: presented by Bill Tennent
cameraman Ron Fraser
sd. rec. Len Southam
film ed. Fred Bull
programme associate David Duncan
progamme ed. Bill Lyall
Shotlist: Title credits(0.27) ms of Bill Tennent introducing subject of programme (0.41) Bill Tennent [B.T.] meeting Lewis Crofter Donald McLeod digging up potatoes in field [Shawbost?] (0.56) visuals of talking head i/v with D.McL interspersed with shots of surrounding crofts & croft land (3.49) ints shot of Weaving Loom in action with talking head Iv with D.McL discussing the importance & relevance of hand-loom weaving (9.34) ms of B.T. & D.McL. in Peat Bog with D.McL. cutting the peat & B.T. in bog throwing the cut peat to the side (12.20) ms of B.T.& D.McL. fishing on a disused pier, with B.T. winding up subject of first half (13.00) End of Part One Logo (13.17) Countdown break (13.26) Part Two Logo (13.31) ms of B.T. shooting? Pigeon by lochside with gun dog (13.37) same scene by lochside with B.T. introducing subject of gun dogs in the estate of Cromlix House near Dunblane, Perthshire (13.51) B.T. lets gun dog loose & dog returns to its owner Lady Auckland (14.18) B.T. talking head Iv with Lady Auckland on the subject of gun dogs (14.52) ms of gun dog retrieving dead pigeon from loch(15.18) B.T. talking head Iv with Lady A. (15.36) ms of black Labrador by lochside with handler shooting of projectile & retrieving it (16.37) B.T. & Lady A. walking Iv (17.07) talking head Iv with Lady A. (17.47) ms of gun dog chasing a rabbit in an enclosed field & walking Iv with B.T. & Lady A. (19.25) Iv with Andrew McLachlin Kennel Manager/Trainer with c/u shots of various gun dogs inside the kennels (21.24) ms of Land Rover taking B.T. & Lady A. up-hill (22.01) int Iv in Land Rover (22.27) ms of tame pheasants in a field (22.50) int Iv in Land Rover (23.13) ext shot of Land Rover stopping with B.T. & Lady A. getting out (23.43) ms to ls of pointer dog hunting for game with hunters shooting (24.42) talking head with Lady A. demonstrating dog whistles (22.55) ms of gun dog searching the heather (26.17) ms of B.T. outside Cromlix House front door saying his goodbyes to Lady A. & winding up the programme (27.19) end credits (27.49).