ERSKINE BRIDGE, the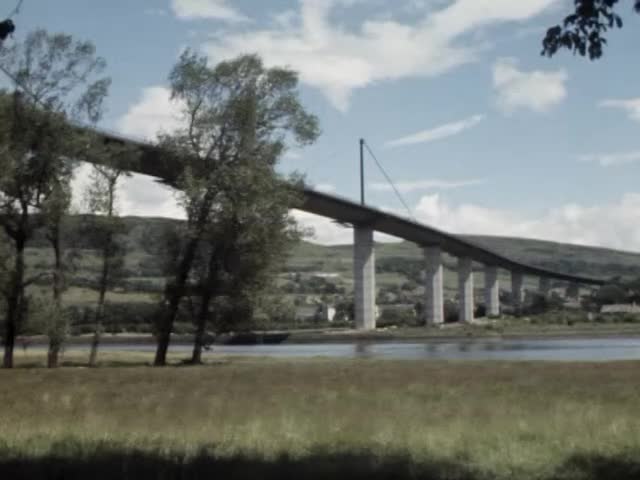 This video is not available to view remotely
Video 1

(currently displayed video)

Full length video - full length available onsite

The Erskine ferry continues to take cars and passengers across the Clyde as the new bridge nears completion. (clip)
Please read Understanding catalogue records for help interpreting this information and Using footage for more information about accessing this film.
Title: ERSKINE BRIDGE, the
Reference number: T0685
Date: 1971
Production company: Scottish Television
Sound: sound
Original format: 16mm
Colour: col
Fiction: non-fiction
Running time: 5.45min
Description: Erskine bridge over the River Clyde, the ferry on the river below and traffic crossing the river using both methods. Engineers explain the problems encountered during construction.
Shotlist: No credits. Reporter talks about earliest needs for a bridge across the River Clyde at Erskine (0.23); Shots of vehicles waiting to board the ferry (0.38); Shot of the ferry, panning to the new bridge (0.58); Views of Erskine bridge (1.34) A man, possibly a senior engineer, describes the technical aspects of the bridge and some of the problems which were encountered during construction (2.15); Pan of the bridge (2.37); Shots of a boat passing under the bridge, waves lapping the shore (2.49); Views of the bridge (3.14); Pan of the Clyde, closing in on shot of high cliff (3.33); Tracking shot of road leading up to bridge (3.56); The bridge pillars (4.00); Man explains that the worst conditions for a bridge occur during construction (4.09); View from a vehicle travelling across the bridge (4.28); Shots of the ferry in operation and of vehicles disembarking from same (5.23); Boat passing under the Erskine Bridge (5.45).