FRUIT MARKET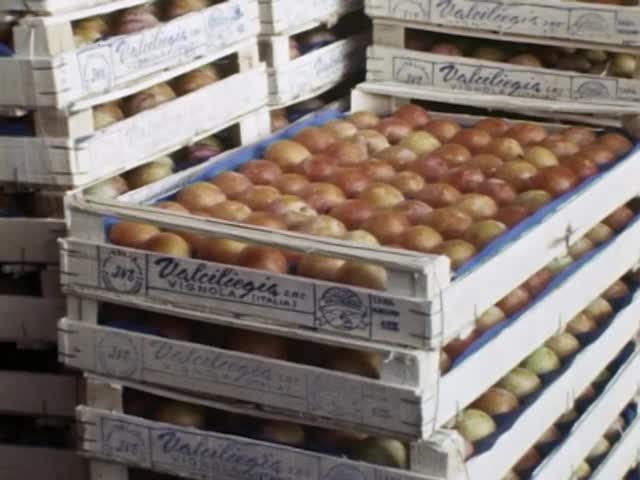 This video is not available to view remotely
Full length video - onsite only
Please read Understanding catalogue records for help interpreting this information and Using footage for more information about accessing this film.
Title: FRUIT MARKET
Reference number: T0578
Date: 1970
Production company: Scottish Television
Sound: sound
Original format: 16mm
Colour: col
Fiction: non-fiction
Running time: 7.06 mins
Description: Glasgow's Fruit Market in operation, with people buying, selling and moving fruit, vegetables and flowers. Also shows grading of fruit and the conveyer used to transport fruit from one part of the Market to the other.
Shotlist: [No credits] Two men at Glasgow's new Fruit Market loading lorry with bags of carrots (0.24); Man unloads lorry load of carrots (0.35); Van and a fork lift truck enter market (0.39); People walking in market (0.51); Shots of various flowers (0.55); Salesman sells same to older woman (1.10); People in market (1.52); Salesman sells fruit (2.06); Fruit and vegetables (2.38); Orchid lying on a box (2.53); lorries on outside of market are loaded with fruit (3.12); Car leaves market fully laden with fruit and flowers (3.20); Two men check order of fruit and veg (3.27); Workers check bananas in banana warehouse (3.48); Man weighs boxes of bananas (4.06); Boxes of bananas on conveyor lift (4.18); Overall shot of warehouse and workers (4.36); Man loads conveyor lift with boxes of bananas (0.47); Bananas picked from circular conveyor and weighed (5.19); Young man makes boxes for W.H. Anderson's bananas (5.43); Man loads conveyor lift with bananas (5.56); Woman staples down lids of boxes (6.11); Young man loads a circular conveyor with bananas (6.20); woman weighs and boxes bananas (7.06)