QUEEN'S VISIT TO NEC, LIVINGSTON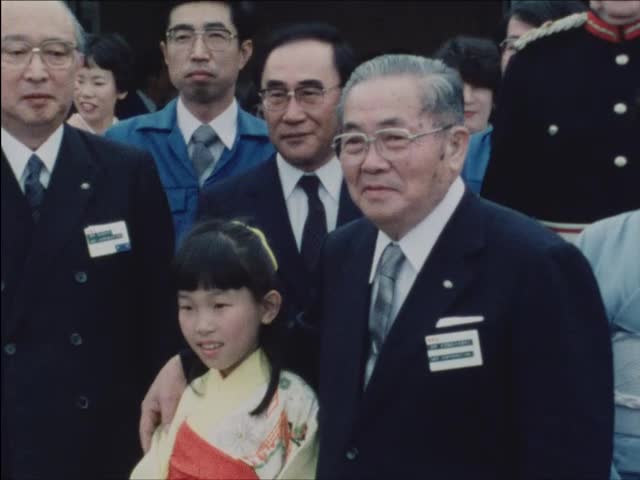 This video is not available to view remotely
Full length video - onsite only
Please read Understanding catalogue records for help interpreting this information and Using footage for more information about accessing this film.
Title: QUEEN'S VISIT TO NEC, LIVINGSTON
Reference number: 9314
Date: 1983, July 4
Production company: Edinburgh Film Productions
Sound: sound
Original format: 16mm
Colour: col
Fiction: non-fiction
Running time: 15.14 mins
Description: The Queen performs the official opening ceremony of the NEC Corporation semi-conductor factory at Livingston in 1983, tours the factory and meets Japanese and local officials and managers.

Please note the sound is slightly out of sync throughout.
Shotlist: shots of HM Queen Elizabeth II arriving at new NEC factory at Livingston, being introduced to Japanese company officials and wives and Scottish managers and wives [sound sync slightly out during this sequence] (1.52) Japanese manager shows model of factory to Queen and Lord Lieutenant - party moves through to interior of factory, Secretary of State for Scotland George Younger shakes hands with manager - round of applause as Queen enters and stands on stage - speech of welcome from Japanese official - speech outlines plans for future investment and development of factory - Queen unveils commemorative plaque to officially open factory (5.39) c/u plaque 'NEC Semiconductors (UK) Limited. This Factory was opened by Her Majesty The Queen on 4th July 1983' - shots of Japanese official explaining exhibition boards to Queen - Scottish manager explaining NEC products to Queen, worker demonstrates speech recognition system (7.21) gvs of factory interior as Queen is shown around and machinery explained (10.39) party enters another area and Queen is introduced to local managers who explain work processes - c/u shot of machinery (12.25) c/u sign 'Her Majesty The Queen has kindly agreed to accept this NEC Connected Speech Recogniser Data Entry System (DP-200) to mark the occasion of our official opening on 4th July 1983. Her Majesty has gifted the equipment to the University of Edinburgh for further research.' - Japanese official makes speech about gift of speech recognition system - speech of acceptance and thanks by Dr. Barnett, Principal and Vice-Chancellor of the University of Edinburgh (13.57) shot of watching crowds outside factory - Queen and retinue exit factory, shake hands - c/u shots of Japanese officials and crowd waving flags - Japanese women in kimonos wave - Queen's limousine departs and crowds cheer (15.14)