VAUXHALL BEDFORD DEALERS CLUB, SCOTTISH CONVENTION, GLENEAGLES 1952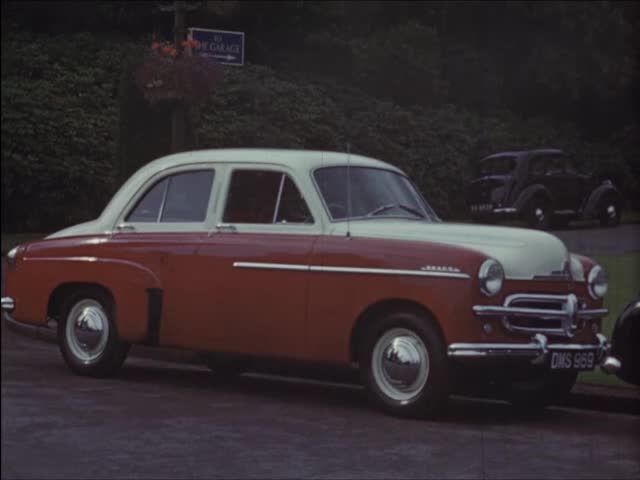 This video is not available to view remotely
Full length video - onsite only
Please read Understanding catalogue records for help interpreting this information and Using footage for more information about accessing this film.
Title: VAUXHALL BEDFORD DEALERS CLUB, SCOTTISH CONVENTION, GLENEAGLES 1952
Reference number: 9125
Date: 1952, September 10 - 13
Sponsor: Esso Petroleum Co. Ltd.
Production company: Elder Film Productions
Sound: silent
Original format: 16mm
Colour: col
Fiction: non-fiction
Running time: 34.13 mins
Description: An official record of a Vauxhall Bedford car dealers' club convention held at Gleneagles Hotel, including footage of conference speeches, sporting activities, dances and social events.

Cataloguer's comment: Well filmed, good colour - particularly good shots of cars at the start, clothing and fashions.
Shotlist: title - Guests arriving - shots of flags on top of Gleneagles Hotel: lion rampant and Vauxhall-Bedford Dealers Club - shots of cars approaching hotel, including mostly Vauxhall Wyverns, guests getting out at front door - WOT - a stranger at the feast? - shot of Austin 8 stopping at front door, followed by another Wyvern - shot of new two-tone Vauxhall Velox saloon (2.02) Serious business begins - shots of convention in function room, chairman speaking - c/u chairman - gvs delegates and speech by Sir Charles John Bartlett, Managing Director of Vauxhall - Good news from Sir Charles? Well, see the smiling faces - gvs delegates laughing - shot of board with list entitled 'Business Made Easy' - gvs another speaker and delegates (3.50) Setting for 3 wonderful days - gvs Gleneagles Hotel and grounds, delegates relaxing in deck chairs around fountain and hotel - c/u West Highland terrier - c/u shots flowers and flower beds - man and women at fountain, c/u dogs - shot of women petting dog - shots of women coming out of hotel and delegates walking in grounds, dog on lawn (6.34) The ladies leave us - but not for long! - shots of women boarding SMT coach and coach leaving - On the Putting Green - gvs delegates playing putting and relaxing on lawn - Life gits tedious don't it! - shots of men and women playing putting, others watching (10.29) On the Bowling Green - gvs men and women playing bowls (13.33) arrow sign for 'Clay Pigeon Shoot' - shots of men and women walking through grounds - delegate walks past with gun case - gvs spectators watching clay pigeon competition - shot of man operating clay pigeon mechanism (16.01) Drawing the Lucky Numbers - gvs at event in ballroom, woman drawing numbers from tombola, presenting prizes - c/u speaker and microphone - The Sport of Kings and Lesser Mortals - shots of race on mechanical horses, riders wearing jockey caps and bibs - Archery - shots of men and women practising archery in hotel grounds, spectators in deck chairs - How it should be done! - shot of man hitting bull's eye - Through the hoops - gvs women playing croquet on lawn (22.04) Snaps on the Golf Course - gvs course - men teeing off from 13th - A pity he missed it! - shots of men playing from rough and on fairway and on green - shots of players returning from course to hotel (27.27) On with the Dance - No sleep till Morn! - shot of dance band on stage - gvs dancers in Eightsome Reel - delegates chatting at tables - gvs Gay Gordons - gvs delegates at tables and band playing - The SQUARE DANCE - Enter the experts - shots of demonstration square dance, dancers in cowboy costumes - On with the motley! - shots of delegates dancing 'Virginia Reel' wearing novelty cowboy hats - gvs delegates at tables and dancing, wearing novelty hats and masks - two men with masks dance with each other - balloons are released above dancers - How to win a BALLOON - and lose it! - man bursts another's balloon (32.21) A new model was on view - group of delegates outside on lawn with baby in travelling cot - Departure - 'WILL YE NO COME BACK AGIN?' - shots of delegates milling around outside hotel, chatting, getting into cars - car departing along driveway - The End - ecs (34.13)