YOUTH ORGANISATION PARADES, GIFFNOCK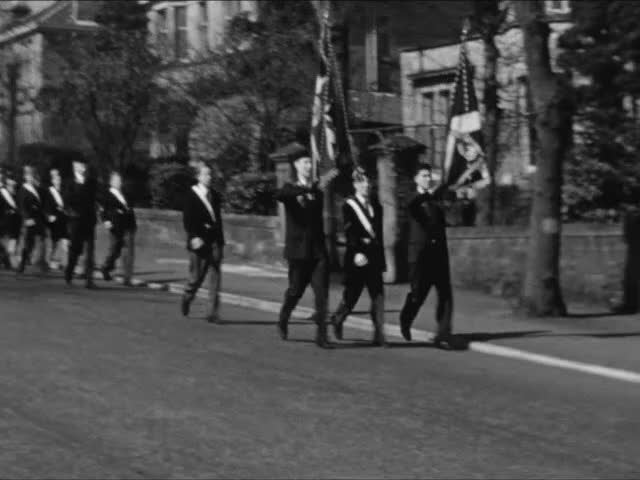 This video is not available to view remotely
Full length video - onsite only
Please read Understanding catalogue records for help interpreting this information and Using footage for more information about accessing this film.
Title: YOUTH ORGANISATION PARADES, GIFFNOCK
Reference number: 8801
Date: 1945* / 1951*
Director: filmed by Don McLachlan
Sound: silent
Original format: 16mm
Colour: bwcol
Fiction: non-fiction
Running time: 4.34 mins
Description: Various youth organisation parades and events in the Giffnock area of Glasgow and shots of Allen McLachlan and his boat 'Tidak-Apa'.

Don McLachlan was a keen amateur cameraman who began filming in 1935, firstly on 16mm reversal, then later on video. An engineer, keen sailor and family man, he recorded many aspects of his life, but rarely his working life. He died in December 2003.
Shotlist: [no title] - [col] - gvs of recently built suburban bungalow and garden in Newton Mearns, Western SMT bus passes - shots of Allen McLachlan in garden removing tarpaulins from his boat 'Tidak-Apa', which sits on a trailer - shots of his wife Irene bringing out a cup of tea (0.48) [bw] shots of large house on Eastwoodmains Road?, Glasgow - shots of minister and Brownies coming out of church doorway and assembling on lawn - [leader] (1.35) [col] shots of Lifeboys and Giffnock South Boys Brigade members assembling in groups on street - procession of youth groups passes down Mains Avenue past Giffnock South Church, including Boys Brigade, Lifeboys, Brownies and Guides - shots of procession passing down Eastwoodmains Road and into Denholm Drive - the wind blows off some of the Lifeboys' hats - [leader] (2.57) gvs of open air commemoration service in Huntly Park, Giffnock, with ranks of youth organisations with banners and large crowd in front of bandstand - shots of youth organisations with banners marching past in park - shots of crowds dispersing up Huntly Avenue (4.34)