1949 FERGUSONS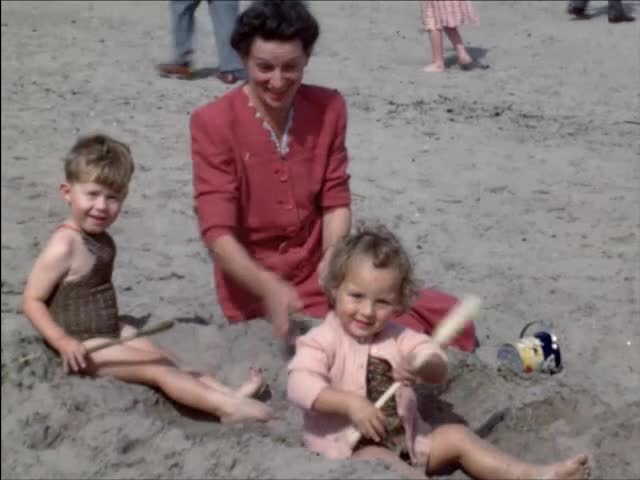 This video is not available to view remotely
Full length video - onsite only
Please read Understanding catalogue records for help interpreting this information and Using footage for more information about accessing this film.
Title: 1949 FERGUSONS
Reference number: 8798
Date: 1949 - 1951c
Director: filmed by Don McLachlan
Sound: silent
Original format: 16mm
Colour: col
Fiction: non-fiction
Running time: 5.59 mins
Description: A compilation of visits by the McLachlan family to their friends the Fergusons, including a summer trip to Loch Achray and an Easter egg hunt in spring.

Don McLachlan was a keen amateur cameraman who began filming in 1935, firstly on 16mm reversal, then later on video. An engineer, keen sailor and family man, he recorded many aspects of his life, but rarely his working life. He died in December 2003.
Shotlist: [no title] - shots of Fiona and Colin McLachlan and toddler playing in garden - Mr Ferguson opens garden shed and puppy runs out - shots of Colin and toddler playing with spade in garden - shots of the Fergusons and McLachlans at back door of house - gvs of large terraced garden and house on hill (1.21) shots on beach on summer day: the Fergusons fooling around, the children building sandcastles - c/u shots of children and picnic on beach - shots of children sitting on rugs for picnic (2.23) shots outside house, families packing car for trip - gvs of families relaxing on beach - shots of families getting out of car and entering Trossachs Hotel on Loch Achray - shots of children outside hotel, gvs of hotel building, families leaving (3.25) shots of families feeding ducks at edge of loch, children paddling - l/s Wallace Monument - shot of Scout standing at bus stop - shots of families and children playing in garden, including shot of Don McLachlan (4.33) shots of Fiona, Colin and toddler going for a walk on a country road in early spring, hunting for Easter eggs in garden - later brief shots of Fergusons and McLachlans visiting wildlife park - shots of children playing on tricycles in field and outside house (5.59)