DRIVING INSTRUCTOR, the / PUTTING ON THE STYLE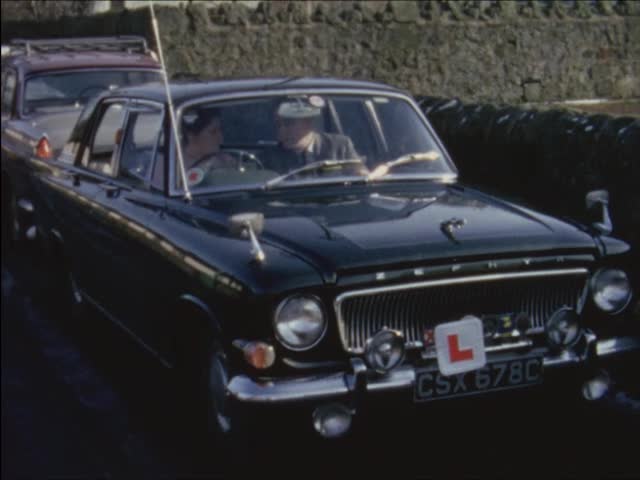 This video is not available to view remotely
Full length video - onsite only
Please read Understanding catalogue records for help interpreting this information and Using footage for more information about accessing this film.
Title: DRIVING INSTRUCTOR, the / PUTTING ON THE STYLE
Reference number: 8389
Date: 1968c
Director: filmed by James B.B. Baird, Tom Todd
Production company: Calders Amateur Camera Club
Sound: sound
Original format: std. 8mm
Colour: col
Fiction: fiction
Running time: 9.37 mins
Description: Two amateur films. The first is a comedy based around a sketch by Bob Newhart, 'The Driving Instructor', in which a learner driver's dangerous driving attracts the attention of the police. The second in which a group of children enact scenes to illustrate Lonnie Donegan's song 'Putting on the Style'.

Title preserved as part of an AHRC funded video preservation project in partnership with Glasgow University, entitled 'Children and Amateur Media in Scotland'.
Credits: [1]
cast Agnes Thomson (driver), James Tucker (instructor)
titles Wilson Yeoman

Shotlist: [1] DRIVING INSTRUCTOR
credits - Ford Zephyr on road with 'L' plate, swerving from side to side, woman learning to drive - title - driving instructor and woman comparing notes inside parked car - woman attempts to start car, turns different switches, starts crying - woman starts car and drives away quite fast, immediately reverses back down road - mobile crane drives up road from building site - car ends up on traffic island - woman fiddles with controls, drives car round and round traffic island and swerves up road - passing motorist gestures rudely and instructor does likewise - woman drives up road at over 60mph, then tries to drive car between building and another car - car swerves up road again, ends up in field - woman reverses back on to road and comes to rest against police car - policeman gets out and talks to instructor, who is taken away in police car - THE END - ecs (7.18)

[2] PUTTING ON THE STYLE
(7.18) title - shots of young girls sitting at dressing table mirror and trying on hats - shots of hot rod race at race track - young boy tries on old-fashioned driver's hat and gloves - children enacting demonstration under placard 'We Want More Pocket Money' - more shots of girls trying on hats - THE END (9.37)