PEN, the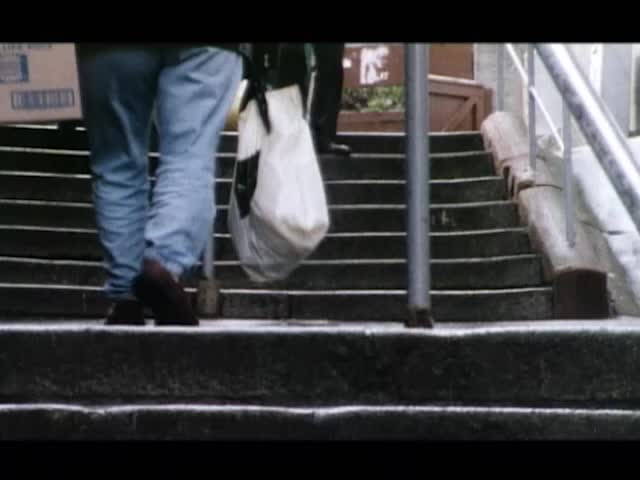 This video is not available to view remotely
Full length video - onsite only
Please read Understanding catalogue records for help interpreting this information and Using footage for more information about accessing this film.
Title: PEN, the
Reference number: 8001
Date: 1995
Director: d. Bill Pryde
Sponsor: BBC Scotland, Scottish Film Production Fund
Producer: Barbara McKissack
Production company: Navigator Production in association with Stoneybridge Productions
Sound: sound
Certificate: PG
Colour: col
Fiction: fiction
Running time: 18.17 mins
Description: When circumstances decide to get awkward, it can enlist the unlikeliest allies. take the humble pen, used millions of times everyday and never given a second through until, of course, you don't have one and you absolutely need to write something. Compound the difficulty with a train journey to a job interview and a carriage full of delightful, self-absorbed but singularly unhelpful passengers and desperate measures loom large. [synopsis from Scottish Screen Catalogue of Short Films 1993 - 1999 "Kicking up a Storm"]

Production file held by National Library of Scotland Moving Image Archive.

Tartan Shorts: A joint short film initiative funded by BBC Scotland and Scottish Screen National Lottery Fund. Three films per year commissioned for theatrical release and broadcast.
Credits: Man Bill Paterson
Woman Imelda Staunton
Old Man Iain Cuthbertson
Old Woman Irene Sunters
Guard Colin McCreadie
Policeman Ken Drury
Mum Kathryn Howden
Boy [Adam] Gordon McCorkell
Buffet Lady Libby McArthur
Ticket Clerk Billy McElhaney
Teenage Boy Harry Ward
Teenage Girl Debra Hirshal

With special thanks to Scotrail and Railtrack and their staff in Inverness and Dingwall. Music supported by The Scottish Arts Council

syills ph. Ruchard Easson
p. team John McKain, Neil Davidson, Ewan Birse, Vince Tyronney
p. co-ordinator Su Bainbridge, Alison Campbell
p. secretary Sarah Black
p. accountant Sandra Watson
locations man. Jonathan Farmer
musicians Dick Lee, Phil Bancroft, John Foley
standby props Mat Bergel
art dept. ass. Douglas Chatham, Mike McLoughlin
art dept. runner Alex Purbrick
boom operator Ann Meredith
dubbing mixer Bronek Korda
gaffer Andy Stewart
electrician Donny Campbell
focus puller Alan McSheehy
clapper loader Alick Fraser
grip David Logan
first ass. d. Ian Fraser
second ass. d. Alison Turnbull
additional second ass. Brian Rose
third ass. d. Ted Mitchell
sc. supervisor Lillias MacKenzie
exec. p. for SFPF [Scottish Film Production Fund] Catherine Aitken
exec. p. for BBC Scotland Andrea Calderwood
makeup designer Dianne Jamieson
costume designer Gill Horn
sd. Becky Thomson
composer Chick Medley
p. designers Michael Gunn, Tom Sayer
ed. James Hamilton
d. ph. Alasdair Walker
exec. p. Pamela Wilson
w. Ian Heggie

© BBC MCMXCV