DEAD SEA REELS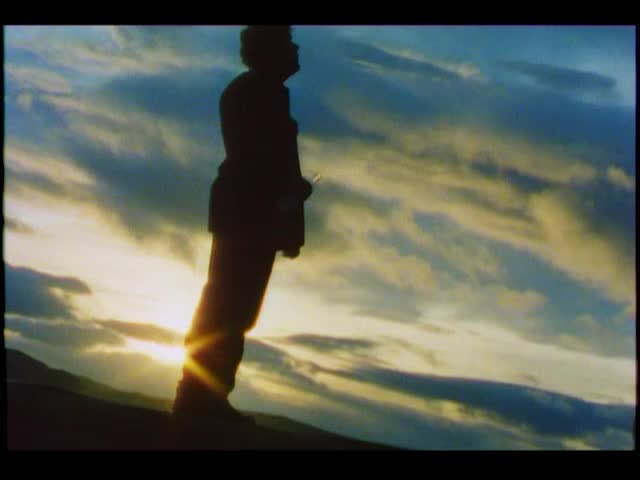 This video is not available to view remotely
Full length video - onsite only
Please read Understanding catalogue records for help interpreting this information and Using footage for more information about accessing this film.
Title: DEAD SEA REELS
Reference number: 7947
Date: 1996
Director: d. Don Coutts
Sponsor: [ Scottish Screen, BBC Scotland in association with the Scottish Arts Council Lottery Fund]
Producer: Oscar van Heek
Production company: [ Move On Up Ltd.]
Sound: sound
Certificate: PG
Colour: col
Fiction: fiction
Running time: 20.18 mins
Description: Dead Sea Reels is the story of a young man, who is unable to cope after his young daughter is killed in a road accident. He takes to the bottle and eventually ends up in hospital close to death. There he meets an elderly priest - a strange man with an even stranger story, who attempts to help him deal with his grief. [synopsis from Scottish Screen Catalogue of Short Films 1993 - 1999 "Kicking up a Storm"]

Tartan Shorts: A joint short film initiative funded by BBC Scotland and Scottish Screen National Lottery Fund. Three films per year commissioned for theatrical release and broadcast.
Credits: Dead Sea Reels filmed on location in Ross and Cromarty

With thanks to Ross and Cromarty Enterprise Ltd., Ross and Cromarty District Council, Scottish Broadcast & Film Training, Royal Scottish Academy of Music & Drama, Highlands of Scotland Film Commission & Highland Council, The People of Cromarty

CAST
Father Jim Ian Bannen
Vincent Moray Hunter
Doctor Gardener Anne-Louise Ross
Anna Naomi Munro
Security Man Bill Murdoch

EXTRAS
Ruth Davidson, Robin Ligerwood, Julie McIver, Rachel Robertson, Frank Gunn, Ian MacDonald, Jenny Middleton. Joel Symonds, Alison Watson, Nancy Henderson, Mary McEwan, Ann Shepherd, James Watson

CREW
1st ass. d. David Gilchrist
2nd ass. d. Claire Hughes
3rd ass. d. Mike Higson
location man. Joe Gibbs
runner / driver Elizabeth Mulholland
floor runner Giles Burgess
addit. driver John Booth

boom operator Pete Murphy
focus puller Lorna Will
loader Kirsten McMahon
camera trainee (SB&FT) Julie Bills
grip Lucien Grieve
crane operator John Kelly
gaffer Donny Campbell
electrician Mick Carr

art d. Rohan Banyard
standby props John Casey
props master Tony Sheridan
art dept. trainee (SB&FT) Stephen Campbell
swing construction Iain Robertson

make-up Irene Napier
make-ip trainee (SB&FT) Nicola Knowles
costume designer Lynn Aitken
wardrobe ass. (SB&FT) Cat Shirley

continuity Avril Watt
p. co-ordinator Philip Ramsell
p. accountant Christine Johns
legal services Richard M. Findlay
insurance services Rollins Hudig-Hall

ass. ed. Gary Scott
dubbing mixer Cy Jack
stills ph. Alan Hunter
publicity David Smith

camera equipment Cine-Europe
lighting equipment Donny Campbell
grip equipment Grip House North (Scotland), Napier University
film stock Kodak
caterers Thistles, Lettuce Eat, Exquisite Scoff
dubbing Waterfront Studios
titles Studio 51, Central Design
neg cutters Sylvia Whelers
film laboratory Metrocolor

exec. p. Andrea Calderwood and Catherine Aitken
Produced with financial assitance from The Scottish Arts Council

p. man. Brian Kaczynski
p. designer Mike Gunn
casting d. Irene Napier
sd. rec. Martin Belshaw
music composed and performed by John Saich and Donald Shaw
ed. Lindy Cameron
lighting Jerry Kelly
p. Oscar van Heek

A Tartan Short Move On Up Production for BBC Scotland and the Scottish Film Production Fund © MCMXCVI