STAR, the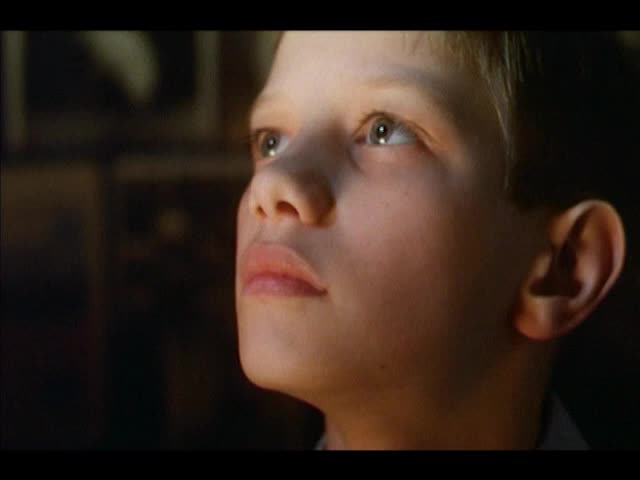 This video is not available to view remotely
Full length video - onsite only
Please read Understanding catalogue records for help interpreting this information and Using footage for more information about accessing this film.
Title: STAR, the
Reference number: 7918
Date: 1996
Director: d. David Moore
Sponsor: The Scottish Arts Council, BBC Scotland, The Scottish Film Production Fund
Producer: Stephen Marsh, Ildiko Kemeny Butler
Production company: Renegade Films
Sound: sound
Certificate: PG
Colour: col
Fiction: fiction
Running time: 18.40 mins
Description: "We are all lying in the gutter but some of us are looking up at the stars". When Spud Murphy's mother dies he takes refuge in the literal meaning of heavenly bodies, especially when a shooting star plummets into his back garden. Inspired by an Alasdair Gray short story "The Star" is a tale of longing and wonderment. [synopsis from Scottish Screen Catalogue of Short Films 1993 - 1999 "Kicking Up A Storm"]

Production file held by National Library of Scotland Moving Image Archive. Winner of BAFTA Scotland Best Achievement Award, New Scottish Talent Awards 1996.

Tartan Shorts: A joint short film initiative funded by BBC Scotland and Scottish Screen National Lottery Fund. Three films per year commissioned for theatrical release and broadcast.
Credits: w. John Milarky
d. ph. Gyula Pados
p. designer Mike Gunn
ed. David Gibson
composer Dario Marianelli
costume designer Michael O'Connor
exec. p. Andrea Calderwood, Catherine Aitken

Cast in order of appearance
Spud Murphy Gordon McCorkell
Aunty Betty Alison Peebles
Uncle George Stewart Preston
Grandad Burns David Bradley
Danny Murphy Philip McKee
John Murphy Billy McElhaney
Father Kane Allan Sharpe
Daidy Graeme Hill
Coochy Simon Gallagher
Sad Sack Sandy Neilson
Devine Kenneth McGlynn
Gilchrist Angela McDermott
Peggy Fiona Bell
Mrs McDaid Carol Brannan
Grandad McDaid John Grieve
Danny's Friend John Commerford
"Jinky" Pat Harkins

p. man. Claire Hughes
p. co-ordinator Kirstin McDougall
p. runner Kath Wishart
location man. Harry Boyd
driver Paul Zielenic
1st ass. d. Lee Rooney
2nd ass. d. Alison Goring
SB&FT [Scottish Broadcast Film and Training] AD trainee Tim Bain
sc. supervisor Margaret Waldie
casting d. Irene Napier
chaperone Lindsay Donnelly
focus puller Alan McSheehy
clapper loader Kirstin McMahon
grip Terry Pate
crane operator Stuart Bunting
gaffers Tom Gates, John White
sparks Michael Alcock, Dave Keogh, Daniel McMullan, Jamie Summers
SB&FT camera trainee Julie Bills
sd. rec. Rupert Castle
boom operator Fiona Carlin
SB&FT sd. trainee Alastair Mason
art d. Rohan Banyard
prop master Tony Sheridan
stand-by props John Casey
props trainee Anna Selwood
wardrobe ass. Barbara Harrington
SF&FT wardrobe trainee Cat Shirley
make up artist Dianne Jamieson
SB&FT make up trainee Nicola Knowles
catering Real Food for Reel People
stills Charlie Crawford
ass. ed. Alex Broad
foley artist Andi Derrick
dubbing mixer Peter Hodges
titles and rostrum camera John Bear

With special thanks to Alasdair Gray

Extract from the Val Doonican Show supplied courtesy of BBC Worldwide and used with the kind permission of Val Doonican, Mrs S. Ray and Miss A. Askey

Apollo 11 Launch footage supplied courtesy of NASA.

Produced with the financial assistance of The Scottish Arts Council. A Renegade Films Production for BBC Scotland and The Scottish Films Production Fund.

© BBC MCMXCVI