IM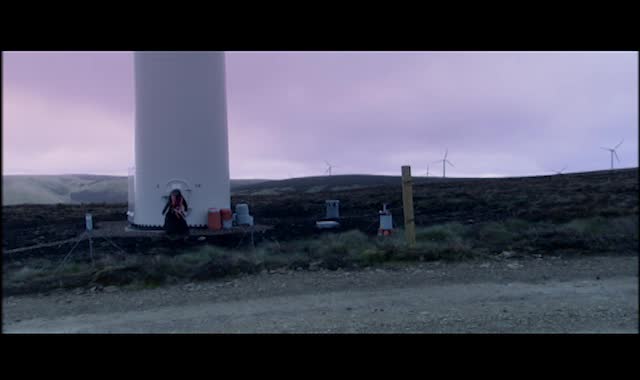 This video is not available to view remotely
Full length video - onsite only
Please read Understanding catalogue records for help interpreting this information and Using footage for more information about accessing this film.
Title: IM
Reference number: 7686
Date: 2004
Director: d. Craig Collinson
Sponsor: Scottish TV, Grampian TV, Scottish Screen National Lottery Fund
Producer: Nick Wright
Production company: Heehaw Productions
Sound: sound
Colour: col
Fiction: fiction
Running time: 24.26 mins
Description: Scotland - the future. Democracy has evolved. Citizens vote in mandatory daily referenda and aspire to the ultimate prize - a place on IM: Heaven Above Earth. [synopsis from Scottish Screen brochure "New Scottish Short Films 2004"]

Scotland - the near future. Democracy has evolved. Technology has made it possible for citizens to vote in daily referenda. Non-participation is not an option. With his sister Char, Henry runs a wind farm. He defies the compulsory referenda, but the penalty for doing so also affects Char and their relationship is breaking down. Char wants to leave the farm and plays an interactive game show for the ultimate prize - a place on IM: Heaven Above Earth. The prize may not be all that it seems though, and when it looks as if Char might win, Henry attempts to stop her… [synopsis from STV website]

New Found Land commissions six digital 24-minute dramas for television broadcast and theatrical distribution. The scheme runs every two years.
Credits: screenplay Craig Collinson, Nick Wright

Henry Niall Greig Fulton
Char Jenny Foulds
FrAn Neve McIntosh
Gene Anthony Donaldson
Mother Monica Gibb
Father Iain Agnew
Girl Anna Somerville
omniscience baby Heidi Forrest
omniscience mother Rachael Forrest

2nd unit d. Steven Hendry
1st ass. d. Dave Tarvit
2nd ass. d. Spruce Baillie
d. ph. Andrew Begg
focus puller Minttu Mantynen
grip Mark Donnelly
gaffer Stephen C. Arthur
sd. rec. Robert Anderson
digital effects Neil Warmel, Dan Creighton, Tom Dearden, Alister Coyne
p. designer Max Berman
art d. Gavin Turnbull
ass. art d. Scott Seaton
construction man. Gordon Rogers
special effects supervisor David Campbell
special effects technician Anne Campbell
costume designer Ali Mitchell
costume cutter Connie Fairbairn
costume maker Sally Campbell
costume trainee Lin Cunningham
make-up designer Nikki Brannan
art dept. ass. Val Young, Karen Quinn, Maevis Moon, Hye Jung Lee, Tim Douglas, Janis Hart, Rowland Young, Erica Brock, Rebekah Dover, Fraser Denholm, Shron Tweedale, Seonaid Aitkenhead, Louise Barron, Pamel McIntyre

ed. Nick Wright
post production sd. Steven Hendry
m. Martin Bennett, Reuben Taylor

"Wedding" written and arranged by Martyn Bennett. Performed by Kirsten Bennett, Martyn Bennett. Contains extracts from the Gaelic Teachers Course compiled by Major Calum Iain MacLeod. Contains fragments of 'An Treisamh' by Miss Russell-Ferguson. Published by WOMAD Music Ltd. (P) 2003 REal World Records.

"Why?" written and arranged by Martin Bennett. Traditional arranged by Flora MacNeil (courtesy of Alan Lomax Archives). Contains fragments of 'The Old Home'. Calum 'Ruagh' Nicholson recorded by Thorkild Knudsen (courtesy of School of Scottish Studies Archives / Greentrax Recording) Published by WOMAD Music Ltd. (P) 2003 Real World Records.

"Liberation" written and arranged by Martin Bennett. Published by WOMAD Music Ltd. (P) 2003 Real World Records

colourist Aoibhinn Dinnigan
post production effects Barney Jordan
online ed, Clyde Kellett
stills ph. Robert Anderson, Max Berman, Ruairidh Campbell, Richard Cross, Steven Hendry, Nick Wright

animal handlers Creature Features
catering Richard Smith

Special thanks to Alistair Parlett, Natural Power, Jonathan Smith, Dave Atherton [...et al ...]
Thanks to Judy Anderson and Bryony McIntyre at Scottish Screen, Richard Dilks, Birger Saetre [... et al ...]

The events and characters portrayed in this film are entirely fictitious. Any similarity to actual persons or events, either living or dead, is unintentional and purely coincidental.

p. ass. Mally Graveson
p. co-ordinator Corryne MacLean
ass. p. Mark Strickland
exec. p. Becky Lloyd, Agnes Wilkie

A Heehaw Production for Scottish TV, Grampian TV and Scottish Screen. © MMIV