LUCKY SUIT, the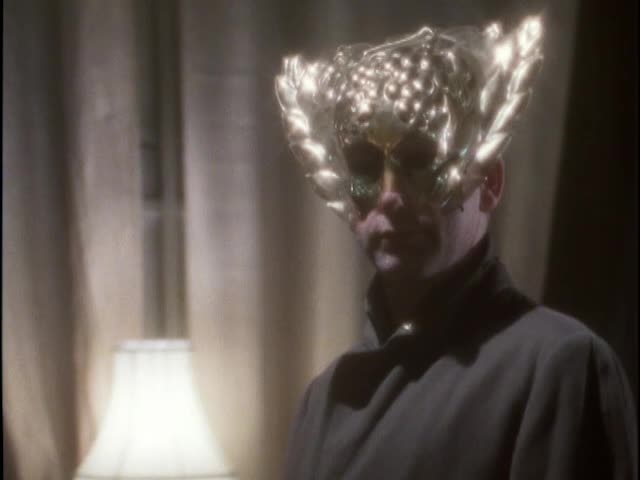 This video is not available to view remotely
Full length video - onsite only
Please read Understanding catalogue records for help interpreting this information and Using footage for more information about accessing this film.
Title: LUCKY SUIT, the
Reference number: 7643
Date: 1996
Director: devised and d. Caroline Paterson
Sponsor: Scottish Film Production Fund and The Scottish Arts Council
Producer: Robbie Allen, Stuart Davids
Production company: Raindog
Sound: sound
Original format: 16mm
Certificate: 15
Colour: col
Fiction: fiction
Running time: 20.00 mins
Description: In the fading light of a city, two homeless men are pulled into the bitter world of ageing comedian, Tommy Yorke. As Tommy tries to end his unfulfilling life, the two wanderers meet a woman lost in a fantasy life devoted to Tommy. "Who's kidding who, here? We've been given the chance to meet a man, who, like you and me, just ain't wearing it anymore". One night in the lives of four disparate people, whose paths cross when fate introduces them to The Lucky Suit. [synopsis from Scottish Screen Catalogue of Short Films 1993 - 1999 "Kicking up a Storm"]

Production file held at National Library of Scotland Moving Image Archive.
Credits: Cast
Irene Barbara Rafferty
Tommy Yorke Ron Donachie
Terry Robert Carlyle
Billy Gary Lewis
Mr. Craig Michael Marra
Young Man Paul Hickey
Lift Attendant Ralph Riach
Leader of the Gang Tommy Flanagan

With Sharon McKay, Stevie Allen, Salar Zahed, David Hayman, Niki Longmuir, Frances McKay, Stephen McCreadie, Andy Flanagan, Nathan Smith, Gemma the Dog, Mari Erskine, Stephen Cafferty, Bridget Paterson, Claudio Carnovale, Vanya Eadie

lighting cameraman Jeremy Kelly
ed. James Hamilton
original m. Michael Marra
designer Niki Longmuir
sd. Kenny Allan
costume designer Eleanor Baker
exec. p. Catherine Aitken
1st ass. d. Gus McLean
2nd ass. d. Karen McConnell
3rd ass. d. Anneli Downing
p. man. Brian Horsburgh
p. co-ordinator Beverley Syme
continuity Lillias MacKenzie
trainee ass. d. Kath Wishart
focus puller Kirstin McMahon
grip Lucien Grieve
clapper loader John Harper
technical operator Charlie Graw
camera trainee Julie Mills
make-up Dianne Jamieson
make-up trainee Nicola Knowles
costume ass. John Laurie
art d. Nicki McCallum
construction Colin Fraser
props Gregor Telfer
stand-by construction Dave Roy
art dept. runners Alan Payne, Claudio Carnovale
art dept. trainee Stephen Campbell
gaffer Donny Campbell
dubbing ed. Bronek Korda
catering Exquisite Scoff
electrician Mick Carr
boom operator Norman McArthur
stills ph. Alan Wylie
chaperone Annie O'Leary
Lucky Suit made by Kirsteen Naismith
original paintings by Norman O'Leary

Special thanks to Andrea Calderwood, Paddy Higson, Andy Harris, Jim Hamilton, Willie Wands, Gerry Ramage, Alice Griffin, Ian Madden, Francis Higson, Martin McCardie, Steve Inch, Eric Coulter, David Hayman, Karen Richards, Kate & Marten, Strathclyde Arts Centre, Peter Fox and staff at The George Hotel.

Camera equipment Tattooist International Ltd.
Grip equipment BBC Resources
Vehicles supplied by David Owen Van Hiore, Arnold Clark, Cabervans.
Laboratory Services Metrocolor London Ltd.
Insurance RHH Ruben
Couriers Ecosse World Express
Radios Martin Daws Communication
Lighting equipment Donny Campbell Film Lighting
titles and opticals Mike Donnely @ Studio 51
title design Paperdart

"Libertango" composed by Astor Piazzolla. Performed by Trio Pantango courtesy of SDRM. "Oclupaca" composed and performed by Duke Ellington courtesy of EMI Publishing & Fantasy Inc. "Mary Anne" composed by Ray Charles performed by Buddy Guy © 1956 Progressive Muisc administered by Carlin Music Corp.

Filmed entirely on location in Glasgow. Raindog gratefully acknowledge the support of Glasgow City Council's Economic Regeneration Unit.

© Raindog Limited MCMXCVI