SANTA / CLAWS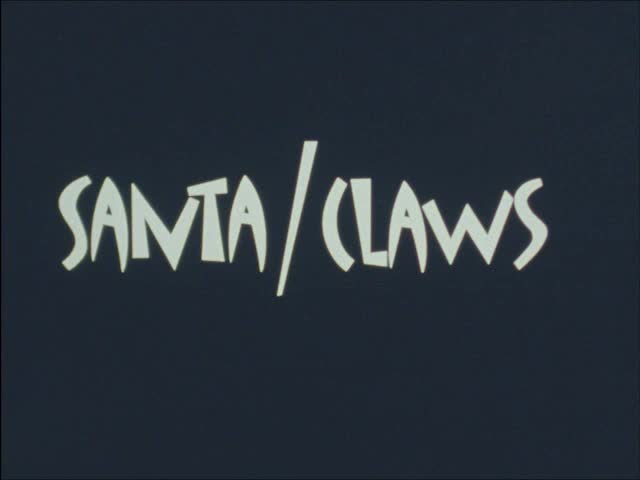 This video is not available to view remotely
Full length video - onsite only
Please read Understanding catalogue records for help interpreting this information and Using footage for more information about accessing this film.
Title: SANTA / CLAWS
Reference number: 7596
Date: 1997
Director: d. Saul Metzstein
Sponsor: The Scottish Film Production Fund, British Screen and Scottish Screen in association with The Scottish Arts Council Lottery Fund
Producer: Carolynne Sinclair Kidd
Production company: Concrete Films / Ideal World
Sound: sound
Original format: 16mm
Colour: col
Fiction: fiction
Running time: 7.00 mins
Description: A Christmas Eve encounter between an angry drunken Santa Claus and little nice boy Kevin results in a frenzied chase, where good and evil become confused and help eventually arrives from a most unexpected source.

Production file held at National Library of Scotland Moving Image Archive.

Prime Cuts: A joint short film initiative from Scottish Screen, British Screen, Scottish Television and the Scottish Arts Council. Films were produced on 16mm.
Credits: Cast
Santa James Cosmo
Kevin Paul Gillen
Dad Robert Stefani
Mum Fiona Francis
Sally Laura O'Neill
The Monster Richard Callan
Stunt double Francis McNeil

w. Jack Lothian, Saul Metzstein
lighting cameraman Neville Kidd
ed. Rachel Seiffert
m. Cameron Sinclair
art d. Rebecca Loncraine
costume designer Nicola Longmuir
monster created and designed by Grant Mason
senior FX technician Tony Steers
p. man. Angela Murray
ass. d. Ted Mitchell
sc. supervisor Lucy Enfield
p. accountant Jillian Morris
p. runner Beverley Shroot
focus puller Chris Burns
clapper loader Jaspreet Bal
grip Lucien Grieve
gaffer Stephen Arthur
lighting ass. Francis J. McNeil
video ass. Fiona McEwan
sd. rec. Roy Argyle, Douglas Kerr, Kenny Potter
boom operator Kenny Allan
dubbing mixer Dave Murricane
foley artist Jack Lothian
art dept. ass. John Currie, Lauren Rom
special effects Perry Costello
construction Adam Squires
monster technician Lee Fields
storyboard artist Tim Pitman
rigging Perry Costello
rigging ass. Kenny Mathers, James Campbell
hair and make-up Catherine Carruthers
wardrobe ass. Cat Shirley
stills ph. Anne Brassier
catering Ali Robinson - Resourceful Cooks
japanese translation Luke Tozer
computer programming Sam Phillips
chaperone Linsey Donnelly
processing Colour Film Services
camera equipment GHS Motion Picture Services
lighting and grip equipment Lighttrack
optical effects Studio 51
titles Spectra
negative cutting Triad-Total
exec. p. Emma Berkofsky, Mark Grindle, Oscar van Heek

"How the Grinch Stole Christmas" by Dr. Seuss TM and © Dr. Seuss Enterprises LP 1957, renewed 1985. Used by permission. All rights reserved.

Thanks to Isi and Dany Metzstein, Hamish Barbour, Caron Brown, John Currie, Philipa Farnese, Mr & Mrs Gillen, Gerry Grady, May Kerr, Andy MacMillan, Terry McCallum, Rita McGurn, Dave Moore, Mr & Mrs O'Neill, Jim & Margaret Renwick, Joanna Rippon, Franscesca Robertson, Hannah Robinson, Rosa Rogers, Zad Rogers, Lauren Rom, Romi, Branching Out, First Cut, Glenmorangie, Habitat Glasgow, Inscape, Kelvin Park Lorne Hotel, Nice House, Paisley Youth Theatre, Scotsys Computer Systems, Strawberry Fields, Tony Walker Interiors Ltd. Edinburgh.

Shot on location in Glasgow with the support of the Glasgow Film Office.

© 1997 Concrete Films