FRIENDLY VOICES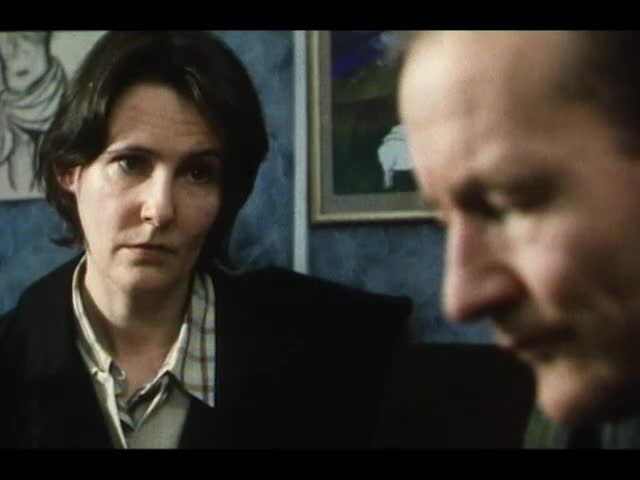 This video is not available to view remotely
Full length video - onsite only
Please read Understanding catalogue records for help interpreting this information and Using footage for more information about accessing this film.
Title: FRIENDLY VOICES
Reference number: 7592
Date: 1997
Director: d. Jack Wyper
Sponsor: Scottish Film Production Fund, British Screen and Scottish Television in association with The Scottish Arts Council National Lottery Fund
Producer: Simon Mallinson
Production company: Mallinson Television
Sound: sound
Original format: 16mm
Colour: col
Fiction: fiction
Running time: 7.04 mins
Description: "Friendly Voices" tells of a psychiatrist's home visit to a patient. It contrasts their different social situations with their all too familiar inner selves. Joan is a spinster in her early fifties, living in an upmarket Victorian flat. Alec is a fortyish schizophrenic who occasionally hears voices in his head. He lives in a council flat in a tower block. Both live alone. Both are lonely. During the visit, Alec's 'voices' lead him to attempt to cuddle Joan affectionately. For a very brief pivotal moment, their lives touch, before an embarrassing struggle ensues. The voices stop. Joan leaves and Alec is left with his regrets and his suppressed anguish. [synopsis from Scottish Screen Catalogue of Short Films 1993 - 1999 "Kicking up a Storm"]

Production file held at National Library of Scotland Moving Image Archive. Attended Lund Film Festival.

Prime Cuts: A joint short film initiative from Scottish Screen, British Screen, Scottish Television and the Scottish Arts Council. Films were produced on 16mm.
Credits: sc. Dilys Rose and Jack Wyper from a short story by Dilys Rose

Cast David Hayman, Maggie MacRitchie, Joanna Tope

Crew
d. ph. Paul Herley
sd. rec. Stuart Brice
ed. Ivor Gleek
designer Michael Gunn
line p. Su Bainbridge
p. man. Angela Murray
camera operator Lewis Buchan
focus puller Kevin O'Brien
clapper loader Ritchie Holt
video ass. Angela Murray
costume designer Rodger Parker
make-up designer Laura Hill
gaffer Alistair Campbell
spark Fraser Campbell
genny operator Graham Walker
standby props Tony Sheridan
prop buyer Vivienne MacKay
art dept. ass. Sam Storey, Kevin McGuiness
boom operator Peter Murphy
sd. trainee Alastair Mason
sd. dubbing Cy Jack, Waterfront
location man. Beverley Syme
1st ass. d. Niall Mahoney
3rd ass. d. Donald McKinnon
sc. supervisor Lillias MacKenzie
runner Paula O'Rawe
stills ph. Ken Mellin
p. ass. Carole Sheridan, Gillian Deakin
p. accountant Trudy Mallinson, Agnes Logan
office receptionist Gayle Hughes
catering Guy Cowan, Real Foods for Reel People
security Andy McConnell
animal agent Dave Stewart, Creature Feature
dog handler Dorothy Luking
titles Lynne Dickson

Special thanks to Pat Bradley, Camera Associates, Kodak, Digital Facilities, Dr. Denise Coia, Dennis Mooney, Sandy Ross, Lenny Crooks, Robin McPherson, Brian Elsley, Technicolor, Mr. & Mrs McGill, Propworks, Jigsaw, Secker & Warburg, Ecosse World Express, Tam, Red Road / South Balornock Neighbourhood Housing Office, Brian McDonald, King Cameras, Truecut.

Shot on location in Glasgow with the financial support of the Glasgow Film Office.

exec. p. Oscar van Heek, Emma Berkofsky, Mark Grindle.