HOMES THAT ENGLAND BUILT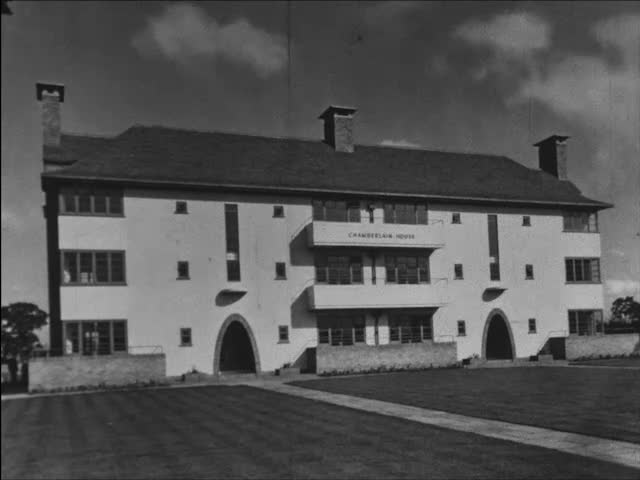 This video is not available to view remotely
Full length video - onsite only
Please read Understanding catalogue records for help interpreting this information and Using footage for more information about accessing this film.
Title: HOMES THAT ENGLAND BUILT
Reference number: 7238
Date: 1943
Director: filmed by James Gray RSW
Sound: silent
Original format: 16mm
Colour: bw
Fiction: non-fiction
Running time: 53.43 mins
Description: A film record of the visits made by a deputation from the Scottish Housing Advisory Committee to housing estates in England in March 1943.

Cataloguer's comment: Not much overt evidence of the impact of war. Nice interior shots of ordinary homes during wartime. Reel 4 has what looks like shots of Quarry Hill flats in Leeds, the largest housing scheme in the country at the time.

Shotlist: Reel 1
JG Film - title - A Film Record of the visits made by a deputation from the Scottish Housing Advisory Committee to English Housing Estates in March 1943 - Members of the Deputation - The Right Hon. Joseph Westwood, P.C., M.P., Parliamentary Under-Secretary of State and Chairman of the Committee, Robert Adam Esq., Town Clerk of perth, Sam Bunton Esq., A.R.I.A.S., Architect, W.I.Burgess Esq., M.D., D.P.H., Medical Officer of Health, Dundee, Mrs. H. Cochrane, Glasgow, Miss Bell Jobson, Assistant Secretary of the Farm Servants' Union - Film produced by Mr. James Gray, R.S.W., Edinburgh - Between the Great Wars, about 4,000,000 houses were built in England by local authorities, public utility societies and private enterprise. The Scottish Housing Advisory Committee in making their plans for Scotland's post-war homes decided to see for themselves examples of the work done by all these agencies. Accordingly a deputation from the Committee visited certain housing estates in England between 15th and 22nd March, 1943. This film, taken during the deputation's tour, records what they saw and in its own way tells the story both of achievements which Scotland can commend and follow and of experiments which Scotland should perhaps admire rather than imitate. - (1.29) London - York Rise, Tufnell Park. A compact Scheme of Flats built under the Housing Acts by a Public Utility Society. - gvs blocks of brick-built flats with balconies - drying greens at back (2.44) int shots: mother and baby looking out from balcony, man in living room, woman passing tray through hatch from kitchen - man emptying ash-pan down chute on stairs - older woman demonstrating cupboard space (3.40) London - High Point - Blocks of "Luxury" Flats built in 1936-38 and rented at from £75 - £500 per year - gv 'Highpoint' entrance with column, gvs of flats and gardens (4.46) int shots: man opening folding windows (4.56) gvs of ext of flats and gardens from above - gvs of vestibule (5.45) plans showing layout of 2 and 3 bedroom flats (6.21) women demonstrating cupboard space and fittings (6.44) plan showing detail of flat layout with lift (6.59) shots of deputation examining fittings inside flat (7.30) ext shot of flats from above (7.48) London - Kensal House - 68 Flats built in 1936 by a Public Utility for Slum Clearance and Decrowded Tenants - high shot of block of flats (8.22) gvs of flats and children's play area, and nursery outside (8.44) int shots: mother taking pram from lift - woman lighting gas fire, kitchen gvs - shot of 'Kensal House Nurser[y] School', pram store (9.26) int shots of children in nursery, playing and eating (9.52) London - White City - An L.C.C. scheme of 1,191 flats. When completed the Scheme will comprise 2,100 Flats in all - gvs children playing in front of flats - bomb-damaged flat - gv of balconies, man cleaning windows - wide gvs of flats, streets and garden areas (11.15) London - Ethalm Street Flats - A Slum Clearance Scheme of 214 Flats built in 1939 by the Ecclesiastical Commissioners. - gvs of small block of flats next to railway bridge and older buildings - c/u shots of wood-burning stove - int shots of women demonstrating cupboards and fittings (12.35) ext shot of balconies (12.47) 345 ft

Reel 2
[no title] - London - Loughborough Park - 398 Flats of 1-4 rooms built in 1938 by a Public Utility Society on a non-profit basis for Working Class Tenants - aerial photo of flats - plan of flat development - ext shot of 'The Guinness Trust' office - gvs blocks of flats with long balconies, Trust office (1.40) int shots: older woman in living room and small kitchen (2.12) ext shot of woman opening half-door to outside - shots of indoor drying area underneath flats, communal workshop with tools and equipment, small hall with stage (3.11) ext gvs of flats and children's play area, Ashford House, Burwood House (3.56) shots of woman washing windows on outside - ext shot (4.26) London - Manor Fields - A Private Enterprise Estate of semi-luxury Flats, laid out on the site of an Old Mansion-House. - ext gvs of flats and gardens - int shots of man and woman in living room, woman demonstrating kitchen fittings - gvs of more bathroom and kitchen fittings (7.14) ext gv of flats in quasi-Elizabethan style (7.29) brief shot of deputation at tea (7.37) London - Roehampton - A Scheme of Cottage Houses built by the L.C.C. in 1923. - gvs of suburban street, housing development - int shots of kitchen fittings - shots of man in gardens of large house beside development - gvs of housing development, streets, children's play area (9.46) int shots of kitchen and living room fittings (10.24) ext shots of development and grassy area (10.44) 290 ft

Reel 3
[no title] - Welwyn Garden City - gvs suburban streets and houses - tracking shots from car along streets (0.58) gvs more streets and houses (1.36) brief shot of horse and coal cart passing - gvs of houses, open area and shops, civic buildings? - gvs terraced houses and grassy areas (3.17) shots of coal-man delivering and coal truck (3.34) block of lock-ups, pan to semi-detached houses (4.03) shots of schoolgirls playing netball - children in cul-de-sac (4.46) int shots of kitchen fittings (5.06) shots of 1938 Community Centre (5.16) street scene, row of shops and bus (5.30) Hatfield Rural District - gvs of terraced housing development in rural area, children playing in street - int shots of kitchen range and fittings, woman knitting (6.51) gvs of houses (7.32) street scene with horse and cart (7.39) Liverpool - shots of large development of flats with balconies and play area (8.16) int shots of kitchen fittings (8.37) ls of block of flats, Lancashire Coal Co. yard in foreground (8.43) gvs of smaller blocks of flats with balconies - shot of woman demonstrating refuse chute (9.10) Manchester - shot of Chamberlain House flats - plan of development - c/u shot archway, 'Mitchell Gardens', gvs of single storey development around courtyard with pond - c/u shot plan of typical flat unit (10.48) int shots of woman demonstrating fittings - gvs large new development of flats with play area - round corner block with shops (c12.00) c330 ft*

Reel 4
[no title] - Leeds - gvs block of flats on corner - int shots, kitchen sink and mangle - ext shots of bins? - (0.52) ext shot of detached blocks of houses, int of bathroom - gvs of development of country-style houses, children playing outside (1.31) shots of Shaftesbury House, 'Women's Entrance' - int shots of men in canteen? - shots of man working at boiler? (2.16) shots of chefs preparing food (2.21) int shot of bedroom (2.32) high gvs of large development of flats, Quarry Hill?, straight and curved blocks - line of shops - passengers standing at bus and tram stops across from flats (3.33) shots of model of large flat development (4.08) int shots of sink, plan of sink unit - plan of disposal station (5.07) shots of laundry? and lift - shot of man appearing on roof from lift (6.47) Birmingham - gvs of large blocks of flats with individual balconies, children playing in between (8.00) shots of single storey housing development and gardens (8.31) shots of smaller blocks of houses - plan of interior - photo of fittings - woman demonstrating folding table and other fittings (11.08) Bourneville - wide pan across area (11.33) gvs Tudor- and country-style houses, open areas - octagonal pavilion - single storey terrace, 2-storey semis, Griffins Brook Lane, more street gvs, pan round to octagonal pavilion - gvs tennis courts (14.01) Coventry - gvs and c/u shots of 2-storey flat-roofed houses in blocks - int shots of bathroom - ext shot of frame construction (14.57) shots of residential building models - model of fittings (16.25) We should like, in conclusion, to express our appreciation of the kindness shown to us during our tour and especially of the friendly welcome given to us by those whose homes we visited. We found everywhere a keen interest in our enquiries, prompted by the confidence that we represented a Committee progressive in its determination to improve Scottish housing standards and eager to learn by personal contact everything that can be learned from England's experience. St. Andrew's House, 19th April 1943. - deputation's signatures - The End (17.07) c463 ft