FRIDGE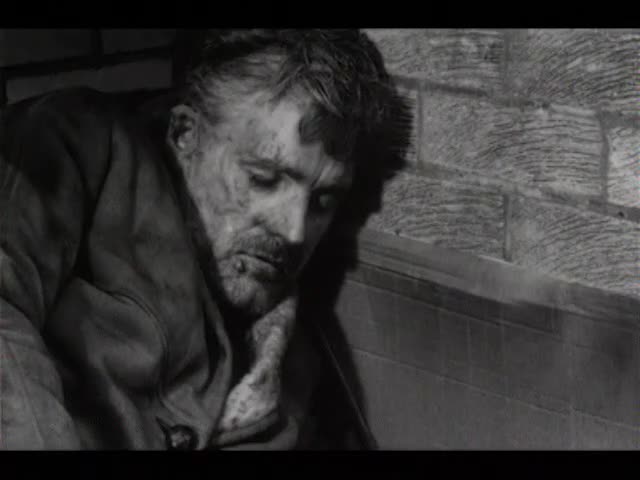 This video is not available to view remotely
Full length video - onsite only
Please read Understanding catalogue records for help interpreting this information and Using footage for more information about accessing this film.
Title: FRIDGE
Reference number: 7058
Date: 1995
Director: d. Peter Mullan
Sponsor: Scottish Film Production Fund, BBC Scotland
Producer: Frances Higson
Production company: Antonine Films and Green Bridge Films
Sound: sound
Original format: 35mm
Certificate: 15
Colour: bw
Fiction: non-fiction
Running time: 20.50 mins
Description: A young boys' game in a backcourt in Glasgow goes wrong, resulting in one of them being trapped in a discarded fridge. In the hours that follow, the responsibility for this young life falls into the hands of Alice and Rudy who are themselves homeless, friendless, and on the verge of chronic alcoholism. [synopsis from Scottish Screen Catalogue of Short Films 1993 - 1999 "Kicking up a Storm"]

Also known as THE PRESS. Part of the 'Tartan Shorts' film scheme. Production file, poster and stills held by National Library of Scotland Moving Image Archive. Script also held at the Scottish Theatre Archive, Glasgow University. Ref. code GB 247 STA Jy 17(4)

Awards: Best Short Film 1995 - also winner of 12 international awards, including BAFTA Scotland, Best Short Film Award 1995; Cork International Film Festival Best European Short Film (joint award) 1995; Atlantic Film Festival Best Short Film Award 1995; Grand Prize of the Bilbao International Film Festival 1995.

Tartan Shorts: A joint short film initiative funded by BBC Scotland and Scottish Screen National Lottery Fund. Three films per year commissioned for theatrical release and broadcast.
Credits: w. and d. Peter Mullan

Rudy Gary Lewis
Alice Vicky Masson
Charlie Laurie Ventry
Older Boy Steven Singleton
Younger Boy Joe Douglas
Jonah Max McIlmun
Fireman 1 Campbell Soutar
Fireman 2 Alasdair Begbie
Man with Dog Eric Roberts
Woman at Window 1 Cliona Harkin
Woman at Window 2 Gillian Berrie
Man at Window John Duncan

1st ass. d. Tony Sheridan
2nd ass. d. Ted Mitchell
3rd ass. d. Margie Fortune
sd. mixer Alan Young
boom operator Alan McNicol
add. sd. rec. Brian Howell
add. boom operator Ronnie McIndow
focus puller Francis Todd
clapper loader Kevin O'Brien
steadicam operator Alasdair Rae
camera trainee Neil Davidson
grips James Coulter, Dave Logan
electricians John Duncan, Stephen Arthur
electrician trainee Jamie Miller
add. electrician Jimmy Dorigan
art d. Mat Bergel
art ass. Cliona Harkin
carpenter / stage hand Alex Robertson
make-up design Anastasia Shirley
make-up trainee Karen Campbell
add. make-up Diane Jamieson
wardrobe mistress Gillian Berrie
continuity Sarah England
p. man. Nick Murison
p. co-ordinator Su Bainbridge
p. accountant John McKain
locations man. Campbell Atkinson
p. runners Catherine Shirley, Alasdair Begbie, Sharon Walker
ass. ed. Lorraine Keiller
dubbing mixer Paul Hamblin
stills ph. Alan Wylie
storyboard Alan Reid
exec. p. Catherine Aitken, Andrea Calderwood
camera equipment G.P. Film Services
lighting equipment Lee Lighting Ltd.
grip equipment Grip House North
caterers Real Foods
walkie-talkies Brill Sound
sd. recorded at De-Lane Lea
titles Paperdart
film laboratories Metrocolor

Filmed on location in Govanhill, Glasgow, Scotland.

designer Campbell Gordon
ed. Colin Monie
m. Craig Armstrong
d. ph. Grant Scott Cameron
p. Frances Higson

© BBC MCMXCV