NORMAN MacCAIG AT CALTON STUDIOS, EDINBURGH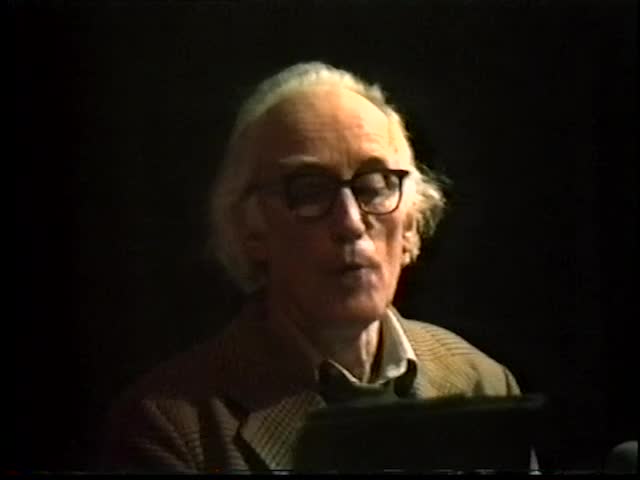 This video is not available to view remotely
Full length video - onsite only
Please read Understanding catalogue records for help interpreting this information and Using footage for more information about accessing this film.
Title: NORMAN MacCAIG AT CALTON STUDIOS, EDINBURGH
Reference number: 6985
Date: 1983, April 22
Sound: sound
Colour: col
Fiction: non-fiction
Running time: 142 .04 mins
Description: Norman MacCaig poetry reading at Calton Studios, Edinburgh on 22 April 1983. This was a Peace Benefit - other performers were Davy King ; multi-media with Brian Iddenden ; John Greig ; The Strawberry Tarts. All profits were to go to CND.
Shotlist: [shotlisted from VHS, manual control track]

[0:00:00] c/u sign 'They are Dying While i Speak' (Shelley). Davy King in 'dunce' hat takes to stage at Calton Studios, removes hat and holds up cards to spell 'A Translation of Buddha's Flower sermon into Fruit', 'Silence is golden', 'Golden delicious'. He produces apple and takes a bite [0:01:44] King at microphone performing various poetry pieces about the police, nuclear weapons, Falkland Isles etc [0:08:30] stands on 'soap box' and recites poems about Thatcher and the Queen in between playing the kazoo. [0:13:12] He puts cardboard box on his head for a piece about television [0:15:33] piece about rubbish and acronyms [0:18:30] he puts on fake fox fur hat for a piece about animal research laboratories [0:20:59] he mentions a march tomorrow before reciting a piece about a deaf mute being shot, applause, camera pans around to sign 'Kamikaze Bard Little Davy King's Performing Doggerel' [0:23:12] gvs people in dark talking [0:23:32] Norman MacCaig recites poetry including 'The Kirk', 'Sea Change', 'Rewards and Furies', 'Scene in the City', 'A Squib to Light a Fag With', 'From my Window' and 'Idle Reflections of a Tired Mind', applause as he leaves stage [0:34:04] camera pan, dark stage, camera foccusing on words 'They are dying' [0:35:08] Davy King advertising plutonium flavoured crisps before reading from toilet roll about 'the bum' (the bomb), applause [0:47:10] Davy King performing a piece about money before asking for collection for CND, Louis Armstrong impersonation [0:53:00] a piece about NATO [0:54:30] he collects his material and leaves stage, gvs stage [0:55:04] Norman MacCaig takes stage and recites 'Two Thoughts of MacDiarmid in a Quiet Place', 'The Truth About Bruce and That Spider', 'Below the Green Corrie', ' Neglected Graveyard Luskentyre', 'How to Cover the Ground', 'John Brown and Queen Victoria', 'Obituary', 'Fisherman's Pub', 'Characteristics', 'Toad', 'Jumping Toad', 'Nineteenth Floor Nightmare New York' [1:08:51] applause as he leaves stage, Davy King returns [1:09:14] another poet reciting poem whilst holding cigarette, also 'Waiting in the Lobby', 'The View', 'Because', 'Lonely London', Jones's Steel', 'Nightclubs' [1:17:30] applause as he leaves stage, Davy King appears in top hat with white face and with 'L'plate to set up stage [1:18:41] he performs a piece about a magician, then long poem 'The Year of the Dog' [1:32:20] applause, yoga lesson, he changes for piece on Spring [1:36:40] he forgets lines, then continues [1:38:55] holding up sign 'Sex Appeal', reverse 'give generously'. Asks for audience participation in 'interrogation of the sea' [1:41:09] applause, and he leaves stage [1:41:38] gvs audience, white noise [1:41:51] gvs the Strawberry Tarts, guitar band with drum machine accompaniment [1:48:40] Davy King walks onstage with sign 'Last orders 12:45' [1:51:55] song 'Catching the Stars in Our Hands' gvs band [1:57:20] gvs band singing 'Candy Says' by the Velvet Underground followed by their own song, 'No Second Time' [2:08:53] band warm up for another song, 'Diva?' [2:13:40] band finish their set, applause, band continuing with encore and an instrumental, 'the Chosen Few' [2:22:04]