BUNKERED AT BLACKPOOL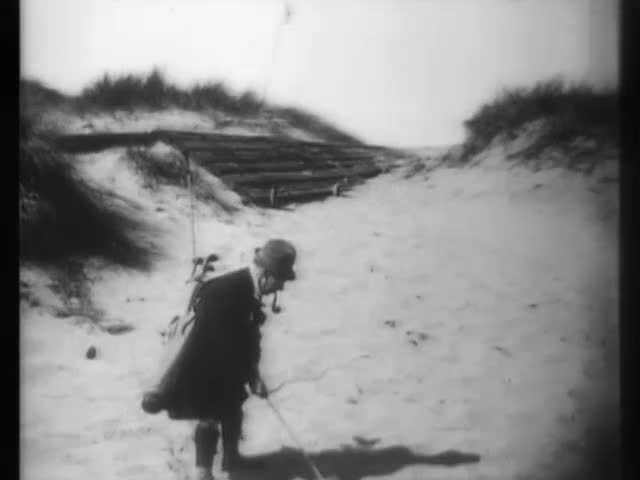 This video is not available to view remotely
Full length video - onsite only
Please read Understanding catalogue records for help interpreting this information and Using footage for more information about accessing this film.
Title: BUNKERED AT BLACKPOOL
Reference number: 6947
Date: 1917c (?)
Production company: (Weister Bros?)
Sound: silent
Original format: 35mm
Colour: bw
Fiction: non-fiction
Running time: 14.52 mins
Description: Harry Lauder and friends get up to high jinks on the golf course. Opening sequence shows Blackpool in its heyday.

It is believed that this film by Harry Lauder was never completed or shown to the public. The glass slides mostly contained the intertitles used in the film, but there were a few which although contained the same wording had a different font.
Credits: Cast
Harry Lauder ... Himself
A Player ... Geo Harrop
2 Kilties ... F Allendale, J Woof Gaggs
A Caddie ... Guy Pettigrew

World in Motion [graphic at bottom of every intertitle]
Shotlist: [shotlisted from Viewing Copy 1, with no title. Glass slide title was intercut onto Fine grain dupe neg. to create a presentation version - 'BUNKERED AT BLACKPOOL' being the title]

Harry Lauder, wearing a ribboned coat and feathered bonnet, standing before a tartan backdrop, plays up to camera - nodding, winking, smiling and smoking his pipe (0.24) Cast Harry Lauder - Himself, A Player - Geo Harrop, 2 Kilties - F Allendale, J Woof Gaggs, A Caddie - Guy Pettigrew. LEAVING FOR THE GOLF COURSE Harry Lauder and friends exit their hotel / station and climb into car. Crowds gather around, there is general joking about. The car departs, the sequence taking in exteriors of Blackpool hotels and bars (including 'Tower Bar' and 'Little's Oyster Room') as well as promenaders along the seafront. Exterior shot of 'The Palace' where Harry Lauder appeared on stage (2.00) exts Royal Market Hotel the men exit and are again surrounded by crowds as they depart in car (2.54) ALONG THE PROM gvs of car as it makes its way along promenade. Blackpool Tower, houses and people clearly visible (3.21) PASSING WOUNDED SOLDIERS. LAUDER GREETS THE BOYS brief shot as Harry Lauder waves in passing (3.31) THE GREAT ARRIVAL AT THE GOLF COURSE. LAUDER NEEDS SOME CLUBS. much hilarity as golf clubs are thrown about, the men try to get out of the car - people fall over in a heap (4.25) READY FOR THE BATTLE men exit clubhouse, enjoy a quick smoke (4.45) WHARES' MA CADDIE? the caddies gather around, one man and several young ladies carrying clubs (5.03) teeing off (6.21) I'VE LOST THE HEAD O' MA CLUB Harry Lauder accosts his caddie, whacking him with club. (7.00) LAUDER NEEDS A BIG, BIG TEE a small mound is built so Harry can tee off, yet he still cannot manage to hit the ball (7.32) THE BRAW HIGHLAND LADDIES everyone tramps down stairs on the golf course, Harry Lauder inevitably falling over. They play a hole near the dunes (8.46) WHERE THE BUNKERING HAPPENS in the sand dunes, Harry fails to hit the ball, much to the amusement of his friends (9.02) I'LL GIE YE SOMETHING FOR LAUGHING AT ME Lauder continues to fail to hit the ball, even when he gets an especially long handled, silly looking club to play with. He ends up stomping up the side of the dune (9.44) LAUDER BREAKS THE RECORD FOR THE GREEN and makes a hole in one, using his super-long club. [Camera trickery] the ball 'reverses' out of the hole and back along the green (10.07) A BACKWARD MOVEMENT. EASY, WHEN YOU KNOW HOW [Camera trickery] the party of people walk 'backwards' up the steps (10.29) Harry Lauder hits the ball, runs after it and falls over [obviously staged] (10.40) A LOST BALL Lauder searches in vain in the rough (10.57) COME ON YOU CHAPS AND HELP ME TO LOOK FOR MA BALL they do so (11.24) A NEST OF BALLS Harry finds lots of balls hidden away and he performs a celebratory jig with his friend (11.54) SHELLING OUT. COME ON BOYS, SEEING I'VE WON I'LL TREAT YOU ALL TO A ... money changes hands. The men enjoy a singalong and a half pint on the clubhouse steps, some of them even start to dance the Highland Fling (13.44) Harry Lauder, wearing a ribboned coat and feathered bonnet, before the same tartan backdrop, plays up to camera - drinking, nodding, winking, smiling and smoking his pipe. He bursts into guffaws of laughter in the final shot (14.52)