SCOTTISH WOMEN'S FOOTBALL ASSOCIATION COLLECTION: TEAM IN CANTERBURY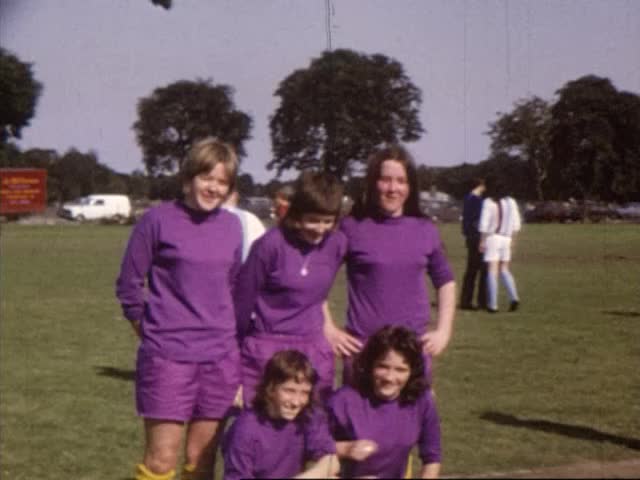 This video is not available to view remotely
Full length video - onsite only
Please read Understanding catalogue records for help interpreting this information and Using footage for more information about accessing this film.
Title: SCOTTISH WOMEN'S FOOTBALL ASSOCIATION COLLECTION: TEAM IN CANTERBURY
Reference number: 6922
Date: 1971 - 1976
Director: [filmed by Carol Leggat]
Sound: silent
Original format: super 8mm
Colour: col
Fiction: non-fiction
Running time: 13:03 mins
Description: Scottish Women's Football Association football match, featuring team activities on a visit to Coventry. Includes shots of female footballer's bedroom wall with football posters, general views matches.
Shotlist: Shotlist timings taken from video copy

Reel 8 pan over modern buildings [Halls of Residence?] (0.17) shots church ruins; c/u inscription, "Father Forgive"; exts. Coventry Cathedral; c/u memorial to "The Ruins" describing the origins and rebuilding of the Cathedral (1.54) c/u posters on bedroom wall [decorated with football wallpaper] "England v Scotland"; Edinburgh News "Edinburgh Girl Footballers take Cup"; Pink News "Edinburgh Ladies Football Team Bring Cup to Edinburgh"; shot of girl sitting in room decorated with Hibernian badges, photographs of Pele and other footballers; table with trophies and medals; c/u small girl seated with football (1.54) gvs's sports day; races, including three legged race; girls playing with a ball at a family picnic (4.07) ints. bedroom; girls pose with various trophies, including small girl in purple strip holding an Edinburgh Dynamos plaque (6.19) gvs match, Edinburgh Dynamos versus team in yellow and black [some shots oof] (12.02) gvs another football match, Dynamos against team in red strip (13.03)