CONCERT, EDINBURGH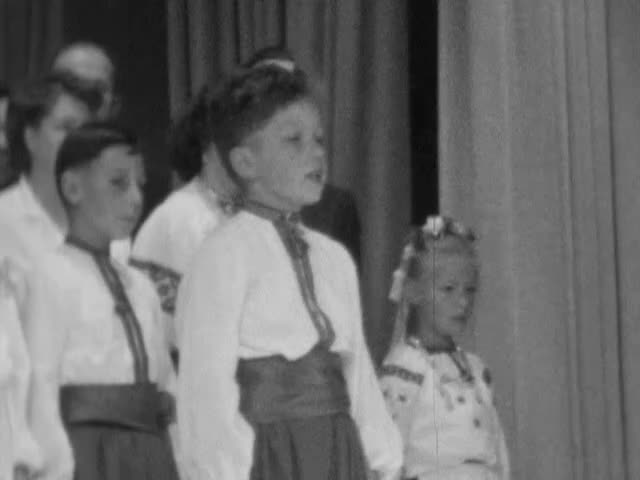 This video is not available to view remotely
Full length video - onsite only
Please read Understanding catalogue records for help interpreting this information and Using footage for more information about accessing this film.
Title: CONCERT, EDINBURGH
Reference number: 6874
Date: 1960, August 14
Director: [filmed by Dr. M Latyszewski]
Sound: silent
Original format: std. 8mm
Colour: bw
Fiction: non-fiction
Running time: 4.30 mins
Description: Ukrainian concert featuring choir singing and folk dances, attended by Archbishop Gray.
Shotlist: [Shotlisted from time-coded VHS copy]

pan over gathered audience; they applaud as Archbishop Gray arrives [possibly in the hall of the convent at Craiglockhart] (0.26) mixed choir perform before an image of the last supper, and trezub [Ukranian national symbol] surmounted by a stole and crucifix; gvs orchestra (0.45) brief shot priest addressing audience; Choir, including children in traditional dress, c/u boy singing solo (1.05) shots of audience and clergy in front row (1.15) group of girls dance [backdrop is also decorated with flags of Scotland, Ukraine and photographs including a large central image of Archbishop Gray]; boys dance group; adult dance performance, c/u footwork (2.16) children's performances; boys dance with curved swords, (3.27) girls' flower dance (3.44) adult dance performance; men dance solo (4.20) Archbishop Gray addresses the audience and accepts a gift [the photograph?](4.30)