PROCESSION AND BENEDICTION AT CRAIGLOCKHART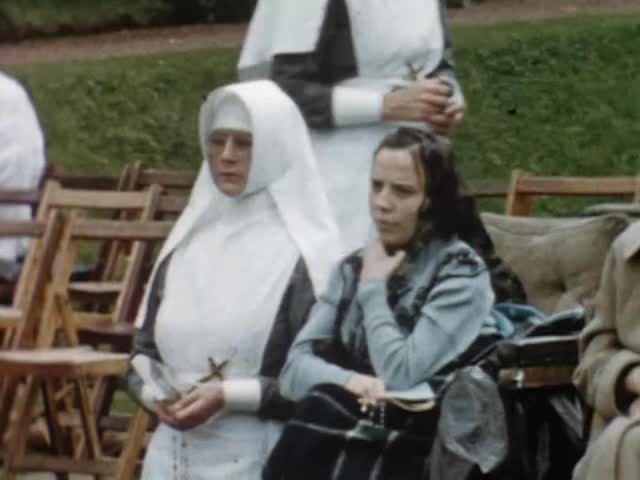 This video is not available to view remotely
Full length video - onsite only
Please read Understanding catalogue records for help interpreting this information and Using footage for more information about accessing this film.
Title: PROCESSION AND BENEDICTION AT CRAIGLOCKHART
Reference number: 6865
Date: 1958, September 7
Director: [filmed by Dr. M Latyszewski]
Sound: silent
Original format: std. 8mm
Colour: col
Fiction: non-fiction
Running time: 3.56 mins
Description: A religious procession and ceremony at Craiglockhart, probably celebrating the 100th anniversary of the apparition at Lourdes, showing people attending the ceremony on stretchers at the front of the large crowd.
Shotlist: [shotlisted from time-coded VHS copy at 18fps]

No credits. gvs Very large crowds sitting outside; people on stretchers wrapped in blankets lie at the front; c/us individuals; people are carried to the front on stretchers, children in prams past Union and Saltire flags (0.34) Religious procession follows crucifix and banner of St Andrew's cross, followed by Brownies and Guides; girls wearing white veils carrying banners, members of the Legion of Mary; (1.14) procession passes open-air altar; Cubs and Scouts. (1.39) priest and accompanying group process through crowds bearing the monstrance under a canopy; flags are lowered to the ground by Scouts as they pass (2.00) pan over crowds; ls ceremony; ms kneeling clergy, and celebrant facing the altar (2.37) ms priests approaching Archbishop Gordon Joseph Gray, wearing mitre (2.45) participants putting up umbrellas and pulling on cagoules against the rain (3.07) ls over crowds in rain, sisters and priest leaving ceremony (3.30) gvs crowds after rain (3.56)