CELTIC EUROPEAN CUP 1967 - GLASGOW HOMECOMING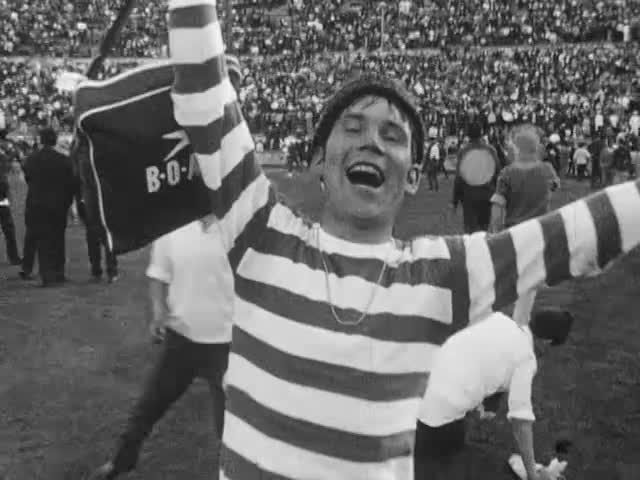 This video is not available to view remotely
Full length video - onsite only
Please read Understanding catalogue records for help interpreting this information and Using footage for more information about accessing this film.
Title: CELTIC EUROPEAN CUP 1967 - GLASGOW HOMECOMING
Reference number: 6847
Date: 1967
Director: [filmed by Eddie McConnell]
Sound: silent
Original format: 16mm
Colour: bw
Fiction: non-fiction
Running time: 5.55 mins
Description: Celebratory scenes as Celtic (the 'Lisbon Lions') bring home the European Cup in 1967. Footage includes Billy McNeill lifting the cup, the team travelling by bus through the crowd lined streets of Glasgow to Parkhead and scenes at the stadium where fans join in the celebrations.

Shotlist: [no title] Celtic fans celebrate on the pitch - two in particular sing and hold their arms up in celebration (0.09) gvs press and team (0.12) fan in Celtic jersey smiling to camera and celebrating (possibly drunk) (0.19) fans, one with shirt undone, pose for camera in scenes of celebration (0.28) European Cup trophy is lifted by captain Billy McNeill. Celtic team disembark plane in Glasgow, along with manager Jock Stein and chairman Robert Kelly. A large box is carried off the plane, presumably containing the 'Cup. There are press in shot, filming with 16mm cameras (1.08) view of an empty Parkhead stadium. Two policemen stand on edge of pitch, crowd scenes [one wee boy flying huge flag, blocking quite a bit of the view] (1.16) crowd, many of them female and all ages, line the barricades along the street at Parkhead, awaiting the team's jubilant return (1.37) ints Celtic team bus, as it makes its way along streets. Police escort can be seen on motorbike at one point. The streets are full of cheering fans. Tracking shots same and turning into Parkhead, horses and policemen (2.28) bus turns into Parkhead, the Cup is sitting in the front window (2.46) team come off bus and walk into the building - there is not much security. Jock Stein is one of the first to come in, he is holding the Cup (3.31) the cup is displayed, the team gather on podium, crowds cheer (4.15) accordion band leads the open top bus 'R. D. Stewart Ltd.' with the team members in it. It makes a tour of the pitch, cheered on by happy crowds. Includes wider shots of the stadium and the crowds generally, some police on the pitch and the press (5.34) very c/u Cup and inscription '? des clubs Champion Europeens' (5.55)