ANGLING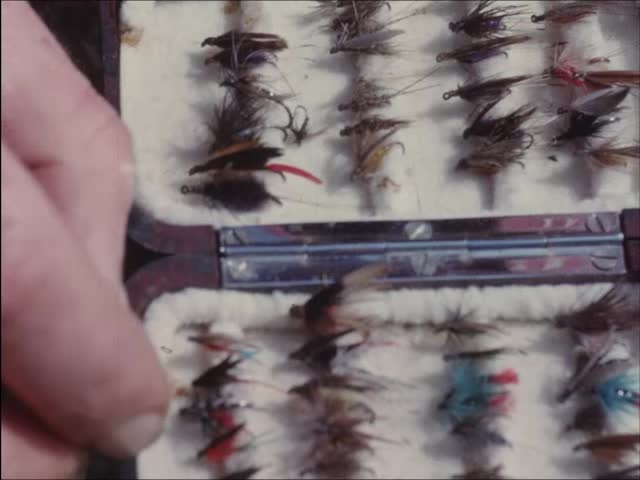 This video is not available to view remotely
Full length video - onsite only
Please read Understanding catalogue records for help interpreting this information and Using footage for more information about accessing this film.
Title: ANGLING
Reference number: 6834
Date: 1963*
Director: [d. Adam Malcolm]
Sponsor: [ Fife Educational Resource Centre]
Sound: silent
Colour: col
Fiction: non-fiction
Running time: 9.44 mins
Description: Witness a typical day out angling on the loch. Flies are tied, the rod and line is prepared and both small and large fish caught.

Adam Malcolm was an active member of the Scottish Educational Film Association, directing and editing many of their films.
Shotlist: [please note film viewing copy is suffering from Vinegar Syndrome]

[no title] wooden rowing boat sailing on loch dappled with sunlight (0.14) boat is pulled ashore, gvs as man walks on rocky footpath over hills carrying his fishing rod and equipment, intercut with scenic views (2.07) he sets up at a quiet spot on the water's edge, c/u as he assembles fly (3.02) gvs angling, the rod pulls (4.08) and a fish is caught - the shots show the fish struggling on the hook, and being caught in net (4.57) another fish is caught but this time the hook is removed and the fish released back in to water (5.43) the day's catch, about twenty fish, lined up on grass and with a tape measure against them (5.54) angler sits peeling a banana with a drink beside him (5.59) angler unloads his equipment from his bubble car (6.19) gvs as angler prepares rod and line, c/u wooden box full of equipment such as flies (6.41) c/u as he ties a wooden 'bobbin' that looks like a small fish (this will presumably act as bait while fishing) (7.11) sailing out from wooden jetty in rowing boat with outboard motor, gvs as he lets his line out and waits for a bite. Includes shot of him spraying a fly with silicone fly fishing spray (9.09) a fish is caught and scooped in net (9.41) three fish laid out on grass (9.44)