WORK IN A NEWSPAPER OFFICE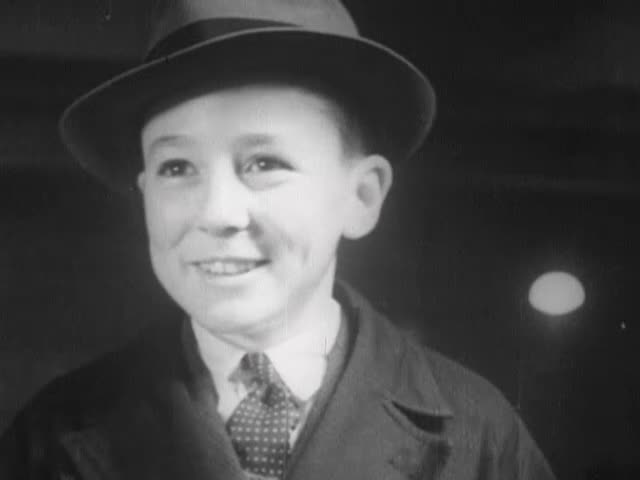 This video is not available to view remotely
Full length video - onsite only
Please read Understanding catalogue records for help interpreting this information and Using footage for more information about accessing this film.
Title: WORK IN A NEWSPAPER OFFICE
Reference number: 6827
Date: 1946*
Director: d. John C. Elder
Production company: p. Elder-Dalrymple
Sound: silent
Original format: 16mm
Colour: bw
Fiction: Fiction
Running time: 11.09 mins
Description: A young boy, just finished his schooling, is employed by a newspaper office. Through this scenario the film shows various departments of the newspaper offices, showing how a newspaper was put together in the 1940s.

Date taken from stock marks, although the child dates his letter '5th July 1936' in the film.
Credits: scenario John C. Elder
ph. John C. Elder, Isabel R. Elder
Shotlist: Title (0.19) ints young boy reads a letter with his family around him (0.32) c/u letter, dated June 1936, informing the boy, Duncan that he is leaving school [Victoria High School] (0.41) c/u Situations vacant page: Smart boy wanted for Newspaper. (0.54) Shot of boy putting down paper, and c/u of writing letter of application (1.20) Brief shot of Duncan entering Interview Room (1.26) Shot of Duncan eating breakfast with his family and receiving letter c/u shot of acceptance letter, which Duncan shows to his mother (2.25) Duncan shows his letter to the security guard, who shows him into the building (2.36) Set the lowliest task in the office he watches as he carries out his duties and sees the different branches of the work, one of which he may enter later. he serves tea and biscuits to the men (3.20) Taking "copy" from a sub-editor to the "case" room as he sees the compositors at work gvs of same (4.06) In the wire room, where messages are received by telegraph, he sees he telephoto machine sending and receiving pictures. gvs of same including shot of man coming out of dark room with photograph (4.52) He takes the to the process department where it is prepared for printing. gvs of same including shot of man touching up photograph (5.27) He sees the type being set and the "matrix" being made. gvs. of same (6.32) In the stereo department he sees the printing plate being cast and in the machine room sees the paper being printed. gvs of same (8.36) The bustle of the despatch department bewilders him, shot of men and boys pushing past Duncan carrying out stacks of newspapers (8.46) Of these many occupations which should he follow? montage of various men at work: Telegraphist Process Artist Journalist Compositor Machinist (9.07) Deciding to be a journalist he attends continuation classes and becomes proficient in shorthand and typewriting. gvs of same (9.55) The day come when he receives a note from the editor shot of staff signing in, Duncan receives a letter c/u of note telling him of his assignment to the sub-editorial department brief shot of Duncan pleased with his assignment (10.36) And with a place at a desk his career really starts Shot of Duncan Hutison drawing up a name card for his desk. (11.03) ecs (11.09)