20 EXERCISES IN EDINBURGH CINE SOCIETY CLUBROOMS 1963-1969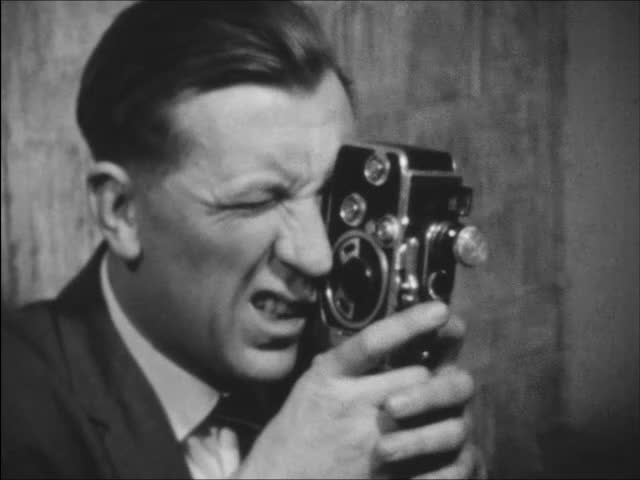 This video is not available to view remotely
Full length video - onsite only
Please read Understanding catalogue records for help interpreting this information and Using footage for more information about accessing this film.
Title: 20 EXERCISES IN EDINBURGH CINE SOCIETY CLUBROOMS 1963-1969
Reference number: 6622
Date: 1963 - 1969
Sound: sound
Colour: bwcol
Fiction: fiction
Running time: 17.14 mins
Description: Short film showreel featuring various examples of the Edinburgh Cine Society filming between 1963-1969.

Note on original film box: 'No sound for most of film but sound on stripe for last 20 ft'.
Shotlist: [col] Edinburgh Cine Society #SCRIPT, SET, SIGHT and SHOOT# 18th January 1963. Unit No.6. Director: Brock. Object: Bangle. Emotion: Rage. short film of man presenting girl with bangle. Another woman enters, same bangle, they fight man and then each other. Illegible intertitle, Unit No.4. short film, two elderly men leave room, mess by bin. Woman comes in, cleans up and lights cigarette. Unit No.1. short film, dentist waiting room, patients holding mouth. Dentist calls one man in, dentist has 'L' plate on back. Illegible intertitle. Frustration (?). Man filling out pools coupon, several pens don't work and he succumbs to rage. [b&w]Envy superimposed on picture of film camera. C/u men looking at small film camera, men leave room, another man steals it. Woman climbing step ladder, man comes in, they have a drink. Seven Deadly Sins - Pride. Man canvassing with rosette, 'Vote Bonkers'. Knocks on door with rosette 'Vote Raven'. Animated discussion with young woman. Man eating voting form. [col] (stripe/24fps). Man writing on blackboard 'Lets Make a Film - Miniskirts'. Various short film extracts. spacer. Man at table eating breakfast cereal called 'CIAO!', wins £5 note.