NORTH BRITISH RAYON LTD, JEDBURGH: Cake Inspection And Trimming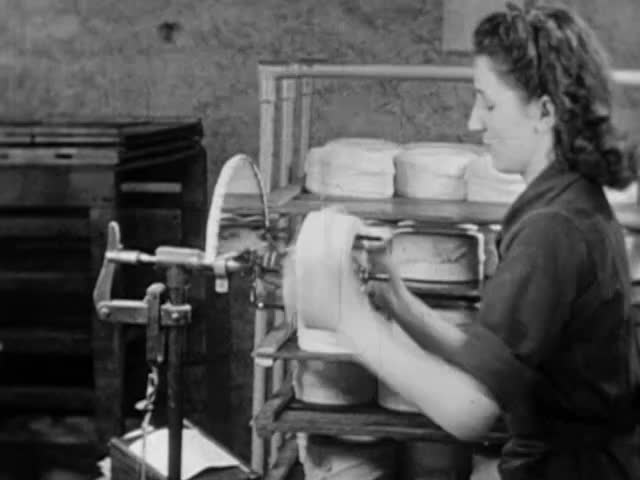 This video is not available to view remotely
Full length video - onsite only
Please read Understanding catalogue records for help interpreting this information and Using footage for more information about accessing this film.
Title: NORTH BRITISH RAYON LTD, JEDBURGH: Cake Inspection And Trimming
Reference number: 6391
Date: 1951*
Sponsor: North British Rayon Ltd
Sound: silent
Original format: 16mm
Colour: bw
Fiction: non-fiction
Running time: 5.09 mins
Description: This film records cake trimming and inspection work at North British Rayon Ltd, Jedburgh. Women are shown stacking the stillage trays, inspecting the cakes, and then packing using two methods. The second method using new equipment is shown to improve production.
Shotlist: Title (0.09) Old Method: 1. Inspection (Two teams working at conveyors). 2. Trimming (Five girls trim for both conveyor teams) (0.20) Loading stillage racks (0.23) gvs same (0.45) Feeding cakes onto the conveyor and recording faults (0.51) gvs same (1.07) Sorting (Cakes needing trimming on shelf are placed on shelf about belt) (1.13) gvs same, time indicator prominent in f/ground (1.41) Trimming. (Rectified cakes returned to conveyor) (1.45) gvs same, six girls at work (2.48) Packing (2.51) gvs same, one woman packs crate (3.12) New Method: Inspection and Trimming combined into one operation (3.19) Loading improved stillage (3.22) gvs same (3.40) Inspecting and Trimming (3.44) woman at inspection and trimming machine (4.44) Packing (4.46) woman packing cakes of rayon in crate (4.59) Results: Increased Output per operator 58% (5.04) Methods studied during a training course at the Anne Shaw Organisation Beech House House, Heald Green, Cheadle, Cheshire (5.09)