PICNIC AND XMAS PARTY 1957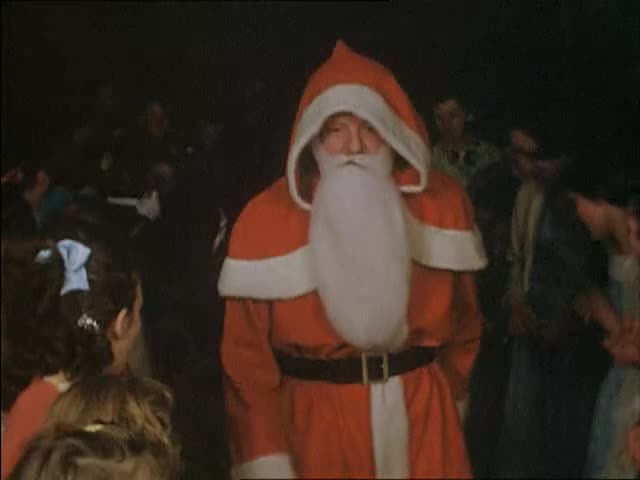 This video is not available to view remotely
Full length video - onsite only
Please read Understanding catalogue records for help interpreting this information and Using footage for more information about accessing this film.
Title: PICNIC AND XMAS PARTY 1957
Reference number: 6320
Date: 1957
Sound: silent
Original format: 16mm
Colour: bwcol
Fiction: non-fiction
Running time: 37.51 mins
Description: Colour footage of a Brown Brothers summer picnic, including buses taking the employees and their families to the picnic site, tents, children playing, stalls, games, races, football, dancing etc. Colour and B&W footage of a Brown Bros Xmas Party 1957 - ages 9 - 14 yrs - the children arrive at the hall, play games, have tea and meet Santa Claus.
Shotlist: [col] Scottish Motor Traction (SMT) buses await passengers, setting off on a rainy summer day (0.24) employees and their families gather at the picnic site. exts tents / marquees (1.28) -blank- (1.37) buses set off and fill with people, sunny day (3.03) families get off the buses and gather at park gates, Peebles. Young and old gather on wooden benches. Ladies play skipping. Slow pan around the park. (3.57) gvs people, some chat, some walk about. Young and old play at skipping and cricket. Men fool about (5.29) older ladies dance together in a circle (5.45) general panning shot as boys play football (7.10) ints marquee, food such as bottles of juice and crisps are stored, a few people chatter (7.27) men and boys play at skipping ropes. A lady joins in with two men (8.15) exts marquee, the first aid tent has a red cross outside. slow pan of scenes in park (8.33) big 'Smiths' lorry arrives and is unloaded - the food is put onto tables (8.49) pan gvs park and people (9.06) queuing for food, packages are distributed - pork pies, cakes etc (9.54) a lady puts her food on grass then packs it away again (10.02) policeman chats to an employee of Brown Brothers (10.09) everyone enjoys their picnic lunch - a lady walks around offering juice / tea (10.58) band play on the back of a Brown Brothers truck, gvs people (11.41) two young women dance together (jive?) (12.00) group of five people stand and chat (four men, one woman) (12.13) men play football (14.05) small group of men pose for a photograph (14.15) ints tent, young and old gather and sit to chat (14.32) gvs children's races, different age groupings (16.34) sack races (17.319) pipe band, Scouts enter Park Gates and parade around, playing as crowds listen and get cups of tea (19.30) c/u poodle dog playing with man, pan R to L to show people in park, pipe band again (19.56) gvs. children marching in beside pipe band (20.27) gvs dancing 'Dashing White Sergeant' (21.43) getting on buses to go home (21.55) [b&w] BROWN BROS. XMAS PARTY 1957 . AGES 9 - 14. coats are left in cloakroom area (22.20) children gather around to listen to man singing (22.54) decorated hall, the children sit down to tables set with flowers and plates and cutlery. They put on their party hats (23.47) listen to band playing - pianist / saxophone / violin (24.16) girl sits on chair beside others - she is performing a 'clapping game' (24.24) 'Conga' game and musical chairs (25.34) [col] eating jelly and ice cream and drinking lemonade using straws out of glass bottles (26.41) dancing and games - a man smoking a cigarette clears up all the rubbish (26.20) Santa arrives and gives out presents to everyone. The girls all get a kiss on the cheek (28.44) children stand together, some holding hands - maybe they are singing (?) (28.54) [b&w] party games 'The Grand Old Duke of York' and some sort of circle 'Conga' type game (31.21) party tea is served, adults stand by to help (32.23) gvs after the tea, the hall and kids (32.41) [col] gvs games, some kids clamour to be in the frame (34.42) Santa arrives and gives out presents to the children, some c/u faces (36.25) -blank- (36.32) [col] gvs games (37.51)