SUMMER FAIR, EDINBURGH LOCAL CONSERVATIVE ASSOCATION, MURRAYFIELD HOUSE 1973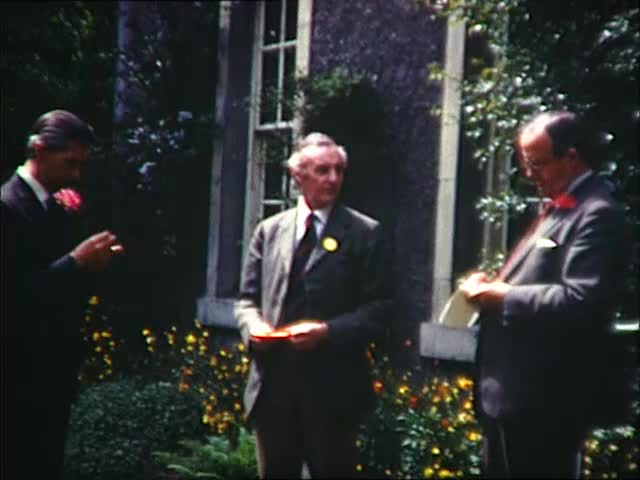 This video is not available to view remotely
Full length video - onsite only
Please read Understanding catalogue records for help interpreting this information and Using footage for more information about accessing this film.
Title: SUMMER FAIR, EDINBURGH LOCAL CONSERVATIVE ASSOCATION, MURRAYFIELD HOUSE 1973
Reference number: 6251
Date: 1973, June 9
Director: [filmed by Douglas Mickel]
Sound: silent
Original format: 16mm
Colour: col
Fiction: non-fiction
Running time: 2.42 mins
Description: Amateur record of a Conservative Association Summer Fair at Murrayfield House, Edinburgh on June 9th, 1973. Records all the typical fairground attractions and captures the mood of enjoyment of those attending. Includes brief footage of Anthony Stoddart M.P. Minister of State for Agriculture, Fisheries and Food.

See P/CN179. Film makers diary records detailed information such as location and date - this record features DWM ref 474/5.

See also HOMEBUILDERS: Mactaggart and Mickel and the Scottish housebuilding industry ed. Miles Glendinning and Diane Watters, Royal Commission on the Ancient and Historical Monuments of Scotland, 1999.
Shotlist: [Shotlisted from Betacam SP 597, manual control track]

(0.00) [no title credits] preparations underway for the Summer Fair - posters and signs put up, decorations loaded into car - gvs around entrance and arrivals at Murrayfield House, Edinburgh for the Conservative Assocation Summer Fair (0.34) man playing bagpipes in gardens of Murrayfield House - gvs crowds enjoying the fair, children's rides, guests include James Douglas-Hamilton (1.21) ints marquee where Anthony Stodart M.P. Minister of State for Agriculture, Fisheries and Food addresses crowd who listen intently (including Douglas Mickel's wife Marjorie on podium) (1.51) gvs fairground rides and pony rides - car with 'Free Trips' sign attached (2.17) gvs children enjoying ride on model steam train, c/u as coal is loaded into its miniature steam engine - The End (2.42)