PROUD SUTHERLAND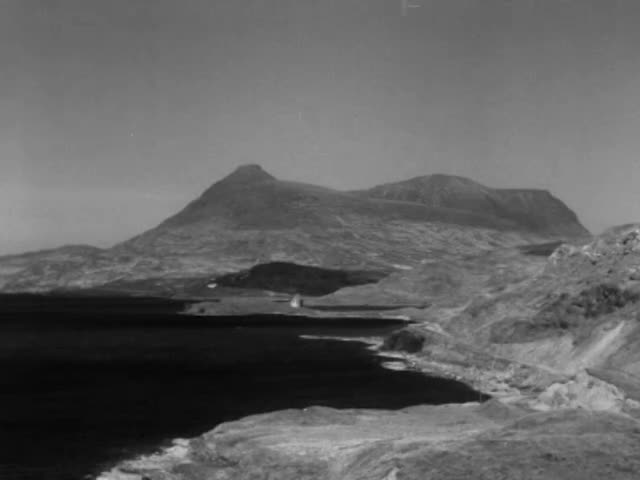 This video is not available to view remotely
Full length video - onsite only
Please read Understanding catalogue records for help interpreting this information and Using footage for more information about accessing this film.
Title: PROUD SUTHERLAND
Reference number: 6209
Date: 1953c
Director: [filmed by Eugene Andrews (?)]
Production company: Anglo-Scottish Pictures Limited
Sound: sound
Original format: 35mm
Certificate: U
Colour: bw
Fiction: non-fiction
Running time: 8.35 mins
Description: The sights, history and culture of Sutherland. Footage includes salmon jumping in river, landscape, site where the last witch in Scotland was burned, sheep dog trials at Golspie and events at the local Highland Games.
Credits: sd. RCA Systems
Shotlist: [BBFC 'U' Certificate] (0.07) Title. Pan from c/u rocky crag to mountains in background (0.37) Loch Naver (0.53) elevated view from rocky coast (1.02) map of Scotland with Sutherland highlighted (1.09) elevated view of rocky Sutherland coast (1.18) Gvs coastline, pan castle ruins (1.40) Gvs small, peaceful burns (1.53) c/u water flowing (2.03) fisherman (2.11) salmon jumping rapids upstream to spawning grounds (2.29) tracking shot from road of adjacent steam engine (2.47) steam engine passing in distance through Sutherland landscape (3.12) ext. church and grounds at Kildonan (3.24) zoom in for c/u monument to the formation of the Sutherland Highlanders in 1800. C/u plaque, erected 1914 (3.35) stone commemorating last wolf to be slain in Sutherland (3.44) stone dated 1722 marking the spot of the last Scottish witch to die at the stake (3.50) flock of sheep pass. Two shepherds and dogs guide sheep along track towards Lairg (4.16) elevated l/s cars parked and sheep market. Steam engine puffing in b/ground (4.24) c/u farmers in suits talking, one holding a glass of whisky (4.28) sheepdog tethered (4.33) sheep in pens (4.43) c/u sheep (4.50) sheep enter indoor sales ring. View of farmers from auctioneers podium, sale in progress (5.14) sheep dog trials at Golspie. Shots of dog, shepherd and sheep intercut with crowd. Dog guides sheep and farmer closes pen to applause (6.15) view from arch of cathedral in Dornoch. View castle (6.31) pipe band marching at Highland Gathering (6.43) stalls including 'Gipsy Nelson' (6.50) man in kilt tossing caber (7.08) men in suits raising a toast (7.15) man in kilt throwing the hammer (7.26) two men in kilts wrestling in ancient fashion (7.40) 2 girls Highland dancing in Highland dress (7.47) c/u girls feet dancing over crossed sword and scabbard (7.53) c/u piper, men watching. More girls dancing (8.13) applause (8.15) opening sequence across rocky crags in reverse (8.29) The End (8.35)