SCOTLAND'S DAY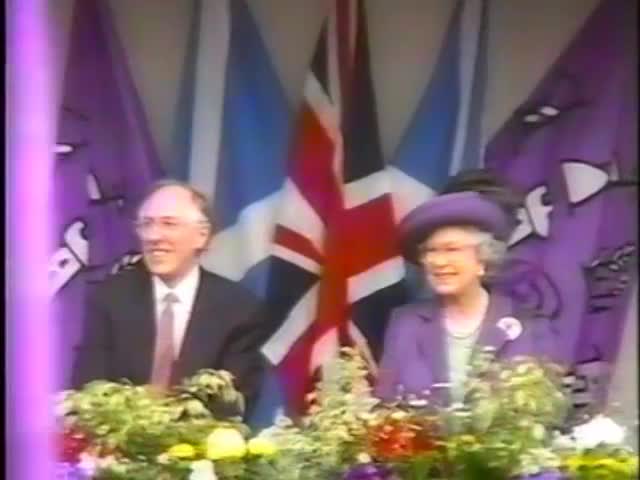 This video is not available to view remotely
Full length video - onsite only
Please read Understanding catalogue records for help interpreting this information and Using footage for more information about accessing this film.
Title: SCOTLAND'S DAY
Reference number: 6168
Date: 1999, July 1
Director: filmed by The Members of the Edinburgh Cine & Video Club.
Production company: In Focus Productions / Edinburgh Cine and Video Society
Sound: sound
Original format: S-VHS
Colour: col
Fiction: non-fiction
Running time: 8.50 mins
Description: The opening of the Scottish Parliament. The different leaflets and posters concerning the devolution campaign, and how to mark the voting paper is shown at the beginning. The remainder of the footage concerns the parades and displays of the opening ceremony. Queen Elizabeth II, and Prince Philip are shown riding through the streets of Edinburgh in a carriage. First Minister Donald Dewar greets the Queen. Sir Sean Connery is also pictured amongst the VIP guests. The media coverage of the event is pictured, along with the huge television screens used to broadcast to the general public the ceremony inside the parliament.

Won third prize in the documentary section at the Nottingham Amateur Video Festival 2000. See Cine Chat, the ECVS newsletter May and June 2000 issues 11/1/417.

The Scottish Parliament was reconvened on the 1st July 1999.
Credits: [compiled by Ralph Fusco]
In Focus Productions Presents
Edinburgh Cine and Video Society presents
filmed by ECVS members Ann Sutherland, George Neilson, Frank Mitchell, Neil Cook, Nick Dixon, John Clark, Dan Mackenzie, Stewart Emm, Jim Closs, Denis Troup
The End of Part One
Shotlist: [Timing set manually from start of programme]

opening credits, superimposed over gvs of the day the Scottish Parliament was opened (00:00:46) gvs crowds watching Queen's speech to Parliament on huge screen situatued in Princes Street Gardens (00:01:05) gvs election campaigning for a devolved Scottish Parliament (00:02:13) horses and soldiers in finery, Royal carriage (00:03:10) Royal procession leaves Palace of Holyrood (00:03:19) press activity around the event, including shot of cameraman being lifted in crane (00:03:34) Queen, Duke of Edinburgh and Prince Charles pass by in carriage (00:03:42) Scottish Crown, escorted by Duke of Hamilton, arrives closely guarded in car (00:03:56) gvs crowds (including brief shot of MSP Margo Macdonald) , gvs street entertainment including pipe band (00:04:30) gvs as Royal party arrives at Parliament, greeted by First Minister Donald Dewar and David Steele (00:05:54) BBC outside broadcast units (00:06:03) the Royal party exit the Parliament building and watch a march past of young people from all across Scotland, including brief shots of Sean Connery waving to crowds, and politicians William Hague, Paddy Ashdown amongst crowd (00:07:02) planes flyover Holyrood Palace and Edinburgh (00:07:52) Royals depart by car (00:08:13) exts Scottish Parliament Debating Chamber and stairs approaching Parliament (00:08:27) ecs (00:08:50)