A STEP TOO FAR! / BULLY BULLY / BALLISTIC / the making of BULLY BULLY and BALLISTIC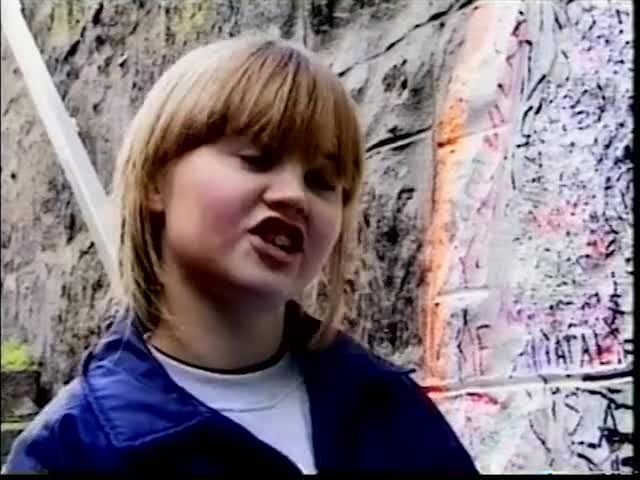 This video is not available to view remotely
Full length video - onsite only
Please read Understanding catalogue records for help interpreting this information and Using footage for more information about accessing this film.
Title: A STEP TOO FAR! / BULLY BULLY / BALLISTIC / the making of BULLY BULLY and BALLISTIC
Reference number: 6127
Date: [1998, March / May / October]
Sponsor: Great Northern Partnership, Aberdeen City Council Arts & Recreation Department, Scottish Arts Council National Lottery Fund, National Lottery Charities Board, Aberdeen Video Access
Production company: CAT A Productions
Sound: sound
Colour: bwcol
Fiction: non-fiction
Running time: 39.17 mins
Description: These short video productions were devised, crewed and starred young people from community projects across Aberdeen. 'A Step Too Far?' considers life in girl gangs, 'Bully Bully' addresses school bullying, 'Ballistic' presents teenage pregnancy. The video ends with a 'Making of...' section documenting the processes involved in rehearsal and actual filming.

See also paper archive records held at the National Library of Scotland Moving Image Archive ref. 11/1/459.
Credits: [A STEP TOO FAR]
The following film was shot and edited in just one week, during the Aberdeen Alternative Festival 1998. It was devised, written, performed and crewed by a group of ten 13 to 14 year old girls: members of the cities [sic] Fersands & Fountain, and Printfield Community Projects. The film, an Aberdeen Arts Development Team initiative, was made possible by funding granted by The Great Northern Partnership.
Fersands and Fountain Community Project and Printfield Community Project with support from the Aberdeen Arts Development Team present
Sandy Emma Russell; Kerry Shirree Smith; Carol Natasha Kilpatrick; Vicky Marie Skene; Natalie Michelle Gunn; Melissa Gemma McCulloch; Julie Claire Rennie; Sarah Alison Dalgarno; Diane Stacey Hall
camera Cindy McKirdy
camera assistants Michelle Gunn, Gemma McCulloch
sd. Alison Dalgarno, Claire Rennie, Marie Skene, Natasha Kilpatrick, Shirree Smith, Stacey Hall
devised and w. by members of the group
collated and facilitated by Steve Webb
camera tutor Mark Raeburn
sd. tutor Ron Bird
m. Jeep
ed. Murray Dawson & Mark Raeburn
p. and d. Murray Dawson
thanks to Margaret Lawrence & Mark Lovie (Fersands & Fountain Community Project) & Rosie Marshall (catering)
funded by The Great Northern Partnership, Aberdeen City Council Arts and Recreation Department

[BULLY BULLY]
Fersands and Fountain Community Project with Printfield Community Project and CAT A Productions present
Shaz Marie Skene; Wifie Skene Christine Annand; Shaz's Dad Murray Dawson; Friend Gemma McCulloch; Gerri Vicky Bowman; Gemma Natasha Kilpatrick; Girls on Rollerskates; Jerry Adams Rhea Young
camera Emma Duncan
sd. Gemma McCulloch, Alison Dalgarno
w. Amanda Russell
screenplay Steve Webb
ed. Gerry Clark
d. Natasha Kilpatrick and Irvine Allan
exec. p. Annie George
p. Murray Dawson
Special thanks to Woodeside Community Centre, Fersands & Fountain Project, Kittybrewster Primary School, St. Machar Academy - Derek Thomson
Produced in association with Aberdeen Video Access and Aberdeen City Council Arts Development Team
The Great Northern Project, Aberdeen City Council Arts and Recreation Department

[BALLISTIC]
Tilly Youth Project and CAT A Productions present BALLISTIC
Sally Mairi Jo Gowers; Kim Sarah Garden; Mike Russell Kidd; Sally's Ma Donna Morrison; Sally's Da Steve Webb;

Band - Rococo Pod
Lead vocals Yoann Buisson; Guitar / Harmonica Euan Bruce; Bass Innes Campbell; Drums Vinnie Farmahan; Keyboard Dougal Quinn; Oboe Gill Tait
sc. devised and developed by members of the Tilly Youth Project
collated and facilitated by Steve Webb
camera Linsey Hutcheon
Soup Dragon Ron Bird
Best Girl Susan Thoms
Best Pee Nichola Walker
sd. Donna Bowman, Lianne Breen, Lisa King, Debi Norris
Thanks to Abbey at the Broadsword Bar
locations Donna Bowman
ed. Gerry Clark
d. Irvine Allan
camera tutor Peter Anderson
sd. tutor Mark Raeburn
exec. p. Annie George
p. Murray Dawson
produced in association with Aberdeen Video Access and Aberdeen City Council Arts Development Team; The Great Northern Partnership

[THE MAKING OF BULLY BULLY AND BALLISTIC]
an Aberdeen Video Access Production
camera Brian Keeley, Murray Dawson
additinal material from the out-takes of BULLY BULLY and BALLISTIC
m. Rococo Pod with their kind permission
Shotlist: [shotlisted from control track, no timecode]

title and credits (0:30) Sandy walks to camera, explaining how she used to be in a gang (1:35) Sandy and Kerry write graffiti on wall, Sandy tells her friend she has a new house in Knightswood (where rival gang is based) (2.47) rival gang of girls chase after them after throwing bottles, c/u gang leader writing graffiti on wall under Swinton Mob, writing 'will die' (3.38) Sandy and Kerry open and drink a bottle of Hooch alcopop, the other girls in their gang join them in a drink they find out the girl is moving to Knightswood and chase her 'scum' (5:40) the girl runs into the rival Knightswood gang and is threatened with knife, she says she will join their gang, she is told to prove yourself by 'battering' Kerry (6:58) gvs gang sitting drinking alcohol, the gangs meet, chasing and fighting ensues (8.11) Sandy chases Kerry down steep verge, Kerry loses her balance and falls to her death below, even though Sandy shouts at her to stop [slow mo] (8.52) Sandy walking to camera, sums up why both are never in gang again, shot of her entering graveyard (9.25) ecs (10:14)

-blank-

(10:25) title and credits (10.49) teenagers in playground, intercut with two girls plotting to confront other girls when teacher is not looking (11.43) girls confront others, demanding dinner money; shot of teacher realises that bullying is taking place, she runs outside and stops them (12.18) ints teacher's portakabin office, a meeting with girl's father about his daughter who was caught bullying, the teacher leaves the room and entraps father who is caught threatening daughter, overheard on answerphone (15:10) ecs (15.50)

-blank-

(16.01) title and credits (16.21) ints dark bedroom, girl (Sally) consents to sexual intercourse with Mike while her parents continue New Year celebrations downstairs (17.36) Six Weeks Later ints bathroom, Sally and her best friend discover her pregnancy test is positive, various options are discussed (18.42) c/u Valentines card, gvs angry family argument as Sally tells her mum and dad the news (20.36) shot of Sally's dad storming out, exts housing scheme (20.46) ints (community centre?) and Mike's band rehearsing, intercut with ints bar, dad drinking heavily, shot as he runs towards community centre, picking up a stick on the way (22.18) ints band rehearsal, gvs violent confrontation as Sally's dad confronts Mike, accusing him of rape, Sally runs in and tells the true story, calming the situation down (23.14) ecs (24.08)

-blank-

(24.30) title ints script development and rehearsals for BULLY BULLY at Woodside Community Centre, Aberdeen; gvs scriptwriter, director, actor, camera tutor in discussion (27.02) gvs rehearsals (28.25) ints script development and rehearsals for BALLISTIC at Tilly Youth Project, Aberdeen (30.18) location shoot for BULLY BULLY at Kittybrewster Primary School (32.55) ints location shoot for BALLISTIC at Tillydrone housing estate (36.06) location shoot for BALLISTIC at Tilly Youth Project (37.40) location shoot BULLY BULLY at Bully Bully location at Kittybrewster Primary School (38.09) ecs (39.17)