ROYAL VISIT TO BANFFSHIRE 4th AUGUST 1961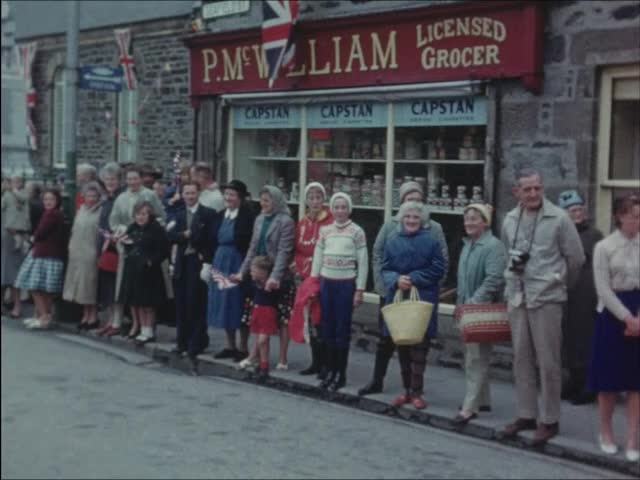 This video is not available to view remotely
Full length video - onsite only
Please read Understanding catalogue records for help interpreting this information and Using footage for more information about accessing this film.
Title: ROYAL VISIT TO BANFFSHIRE 4th AUGUST 1961
Reference number: 6117
Date: 1961, August 4
Sound: silent
Colour: col
Fiction: non-fiction
Running time: 12.33 mins
Description: Amateur film of Queen Elizabeth II and Prince Philip visit to Banff on the 4th August 1961. The Royals arrive in MacDuff by Royal yacht Britannia. They are greeted by a very large crowd, many waving Union jack flags.
Shotlist: Title (0.06) view from coast of Royal yacht Britannia approaching (0.11) pan large crowd waiting at harbour. Gvs people (0.21) small motorboats approach, Royal yacht in background (0.37) Royal launch enters harbour, flags waving (0.55) Queen Elizabeth II and Prince Philip disembark from launch onto walkway, crowd above applauding (1.15) Royals meeting people before standing on harbourside podium (1.27) view of harbour from distance, sign on harbour wall visible, 'Welcome to MacDuff' (1.50) elevated view of crowds as Royal car passes through street. Large glass section of car roof (2.04) tracking shot from vehicle of crowd (2.11) children with flags seated at front of crowd (2.17) pan crowd along street, elderly seated on chairs to front. Intercut with stage, 'Welcome' banner made from flowers to front (2.37) pan crowd, Scouts and Guides (2.45) Man in dark military uniform and carrying sword disembarks from police car (2.49) Royal car passes crowd and stops at red carpet to side of stage (3.04) closer view Royals as they disembark from car, meet Provost and ascend stage. Provost in ceremonial robe and chains (3.23) various local dignitaries meet Royals on stage, shake hands. Man in military uniform introduces them (4.35) intercut with different view from side of stage (5.09) Queen is presented with bouquet of flowers by young boy in kilt (5.17) Queen and Prince sign large book (5.26) pan onlooking crowd and assorted press taking pictures (5.37) Queen descends podium with Prince and Provost. People in background applaud as Royals enter car and are driven off (6.05) elderly people in wheelchairs, with nurses watch. War memorial in background (6.17) Gvs crowd on street, 'P. McWilliam Licensed Grocer' in background, Tate Hotel (6.40) young soldiers in military green uniform, young people with Union flags (6.49) young boy waving from hotel window (6.53) Royal car arrives, Queen meets man (7.14) Royals on podium, meeting local dignitaries (7.53) Queen and Prince sign book on wooden desk (8.25) Queen waves before disembarking from podium and leaving in Royal car. Tracking shot from car following Royal procession (8.42) Royals on podium being introduced to another official, meeting more local dignitaries intercut with children in crowd waving Union flags (9.21) Pan crowd, many of whom are seated (9.27) Queen signing book beside Provost (9.38) crowd on street, shop Fred Woollan to one side. Sea visible through arch of one bridge to bottom of street (9.43) Prince signs book beside Provost, Royals depart (10.08) tracking shot from car (10.11) Queen and Prince on podium with Royal crown, meeting local dignitaries (10.29) brief pan crowd, policemen, sign for Clydesdale and North Bank in background (10.44) Royals sign book on desk, crowds all around as the Queen and Prince Philip enter Royal car (11.06) tracking shot past crowds at high speed (11.19) another podium, Royals meeting more local dignitaries, intercut with gvs crowd (12.00) Royals sign book on desk (12.13) Queen disembarked from podium, walks through crowd and Royals enter Royal car which departs (12.33)