PAISLEY COLLEGE OF TECHNOLOGY OPEN DAY 1967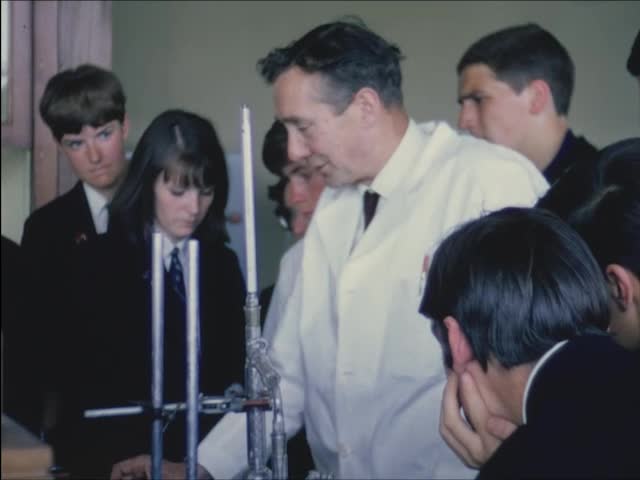 This video is not available to view remotely
Full length video - onsite only
Please read Understanding catalogue records for help interpreting this information and Using footage for more information about accessing this film.
Title: PAISLEY COLLEGE OF TECHNOLOGY OPEN DAY 1967
Reference number: 6108
Date: 1967, June 15 - 17
Sound: silent
Original format: 16mm
Colour: col
Fiction: non-fiction
Running time: 7.47 mins
Description: General views Paisley College of Technology Open Day held on June 15th - 17th, 1967. We see exterior and interior shots of college as school pupils arrive and are shown around various laboratories.
Shotlist: ext. Paisley College of Technology, c/u banner on railings 'Open Days June 15th - 17th' (0.08) view from across road of building, traffic and occasional pedestrian passes (0.23) c/u int. sign with arrows, 'Physics, Mathematics, Chemistry' (0.29) c/u int. sign with arrows, 'Biology, Chemical Engineering, Civil Engineering, Electrical Engineering, Mechanical Engineering, Library, Low Cost Automation' (0.34) open day desk with brochures, gvs men in suits (0.54) man speaking on stage, addressing lecture hall (1.05) pan various engineering and science laboratories (1.33) ext. carpark, school pupils approaching (1.48) tour of various science labs (2.12) c/u experiment, school pupils watching (2.39) town planning model (2.56) gvs int's various engineering labs and demonstrations of equipment and processes, including looms (4.32) small sign 'Rocket Motor' and demonstration of small rocket being launched along wire outside (4.57) int. lab, man at microscope, equipment on desk (5.11) gvs more tours of labs (5.40) man watering large plant in greenhouse, pan smaller plants on bench (5.51) pupils being shown around another lab (6.06) ext., demonstration of large triangular frame with drilling mechanism? (6.41) pan car park, school pupils board white Midland bus, which departs to wave of man in carpark (7.46) brief faded view of int. sign as before (7.47)