CORONATION 1953: A Pageant of Local History BLAIRGOWRIE AND RATTRAY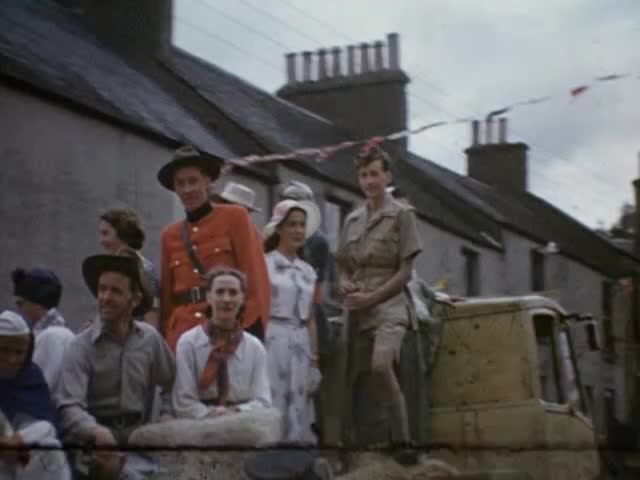 This video is not available to view remotely
Full length video - onsite only
Please read Understanding catalogue records for help interpreting this information and Using footage for more information about accessing this film.
Title: CORONATION 1953: A Pageant of Local History BLAIRGOWRIE AND RATTRAY
Reference number: 6043
Date: 1953, June 2
Director: [filmed by Alister Downie]
Sound: silent
Original format: 16mm
Colour: bwcol
Fiction: non-fiction
Running time: 17.34 mins
Description: Blairgowrie and Rattray Coronation Day Parade and Pageant of Local History, 1953. Prior to general shots of the parade as it passes, there are very detailed intertitles offering historical background to the events and people portrayed.
Shotlist: [col] title For the celebrations marking the Coronation of Our Gracious Queen favour has been found for including among our festivities something of an historic character, devoted to the interests of our town and district. To meet this desire our pageant tries to provide the people of today with representative men and women, both great and simple, who, during the past two thousand years, have lived, toiled, and fought for our own beautiful countryside. It is hoped that our presentation, however modest, may afford interest and enjoyment to all who see it (0.55) ORDER OF PARADE, Blairgowrie, Rattray and District Pipe Band gvs same, marching along, we see two Heralds with a Standard Bearer with the Coat of Arms of the Burgh of Blairgowrie and Rattray in the centre, riding a horse (2.00) people dressed up to represent a pre Roman Pictish family - to reflect the origins of the area (2.33) men dressed to represent A Roman Centurion, an Ensignbearer and two Legionaries (3.00) Saint Ninian and people representing 'Christianity' (3.31) Viking warrior and his wife gvs same (3.35) to represent the Consecration of Rattray Parish Church with the Bishop of Dunkeld, the Priest to the Bishop and a choir boy (4.04) Sir Thomas and Lady Rattray, one of the oldest families in the area (4.34) The Green Ladye O' Newton, believed to have haunted Newton Castle (5.24) Robert the Bruce and a Page (5.47) William de Blair, Abbot of Coupar Abbey (6.12) Laird of Drumlochye signing the Bond of Manrent (6.50) The Admirable Crichton (7.32) Mary, Queen of Scots and the Four Maries (8.00) Lady Lindsay at her spinning wheel (8.39) Rev. John Ross, Minister o' Blair routs the ba' players (9.19) gvs same [bw still] (9.44) [col] James Graham, Marquis of Montrose, and Rattray of Craighall (10.10) Donald Cargill [bw still] still of same (10.48) Flax in Perthshire, Processes in flax production [bw still] gvs floats with people depicting flax production (11.52) Bonnie Prince Charlie, the Curlers' Dinner [bw still] (12.29) A Cottar's Saturday Night [bw still] depicting a Cottar's home (13.15) The First Bailie and Council of Blairgowrie, 1810 ... Bailie Scott and the Councillors of Blairgowrie [bw still] same (13.54) [col] gvs same, of the men walking down the street (14.02) A Coaching Scene ... Victorian Ladies (14.33) Royal Visitors .. Queen Victoria (and John Brown) (15.12) The Provost's Badge of Office ... Provost Robert S. M. Gilmour and Mrs Gilmour they officially take the badge of office on behalf of Blairgowrie and Rattray and end the Pageant of Local History [bw still] Provost wearing badge (16.02) [col] they pass in car (16.08) To Britannia is offered the tribute of the Peoples of the Commonwealth gvs various Commonwealth themed floats, military uniforms, Brownies and cubs, Highland dancing display (17.34)