CRUISE ON THE LADY KILLARNEY AROUND THE WESTERN ISLES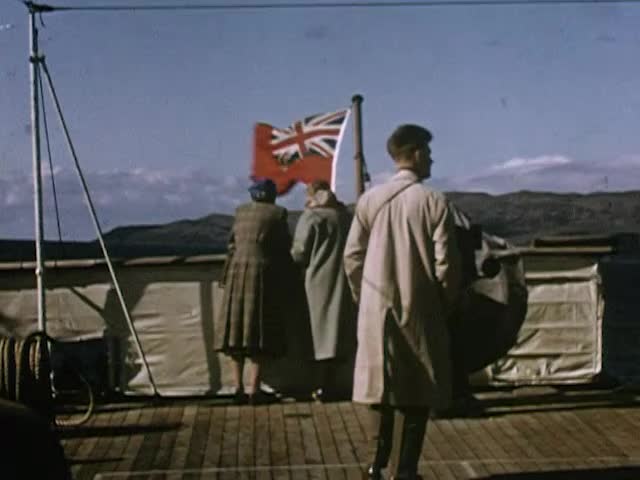 This video is not available to view remotely
Full length video - onsite only
Please read Understanding catalogue records for help interpreting this information and Using footage for more information about accessing this film.
Title: CRUISE ON THE LADY KILLARNEY AROUND THE WESTERN ISLES
Reference number: 6023
Date: 1953*
Sound: silent
Original format: 16mm
Colour: col
Fiction: non-fiction
Running time: 19.54 mins
Description: A cruise around the Western Isles on the TSS Lady Killarney. General views of life on board and trips to shore. General views of the crew swinging the motor launch back to the ship after use.
Shotlist: [no title credits] passengers and uniformed crew mill about on deck, last shot shows woman sitting on deck chair wearing gloves and headscarf, a shawl across her lap (0.15) wooden motor launch is lowered into water and crew bring it alongside boat (0.56) now on shore, gvs people admiring gardens and shrubs (1.16) view of 'Lady Killarney' as seen from shore (1.36) further gvs gardens, beautiful colours and flowers (2.48) gvs as ladies pat horses, outside large house, intercut views of boat in bay and the pier (3.39) passengers congregate on pier and are shipped out to 'Lady Killarney' on the launch (4.38) boat is winched aboard (5.00) brief elevated shot ladies in deckchairs reading on deck, they wear headscarves (5.13) rope is hauled in by sailor (5.27) gvs deck scenes, passing shot land and lighthouse (7.30) visiting Inverewe house and gardens in Rosshire (8.25) enjoying a cup of tea and a chat while sitting outside (8.31) admiring rhododendrons and other flowers, mostly in c/u (10.09) aboard launch again travelling out to ship (10.16) on board, we see another boat pass (10.27) approach to land, flagpole and seagull in foreground throughout, very very brief shot women knitting, seagulls (12.18) gvs mountainous coastline and calmer waters, passing shot Eilean Ban lighthouse; gvs on deck; brief ls Fingal's cave (15.02) ints tea room aboard where eating tea and scones (15.16) exts MacBraynes terminal building, Tobermory and shots taken from smaller boat of the 'Lady Killarney' - very brief l/s Tobermory (15.47) exts. grounds and gardens at Glengorm Castle (16.20) exts. grounds and gardens at Dunvegan? Castle (17.39) passengers boarding the 'Lady Killarney' again (18.28) gvs people relaxing on deck (19.01) passengers disembark with their suitcases, they are greeted by Captain (19.13) sunset looking out over islands and water (19.54)