EASTERHOUSE : A NEW VENTURE - OPENING DAY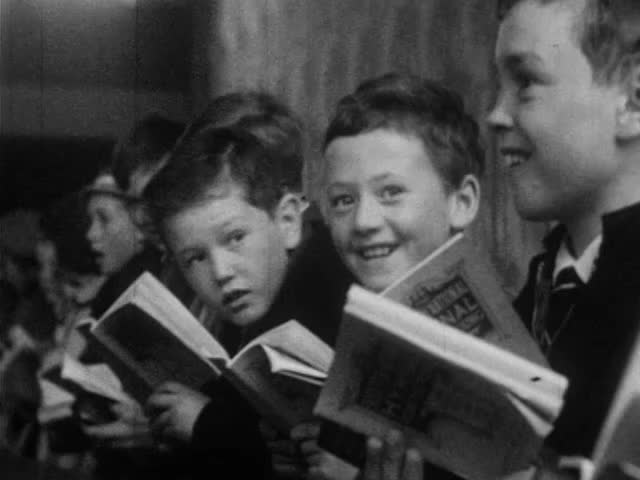 This video is not available to view remotely
Full length video - onsite only
Please read Understanding catalogue records for help interpreting this information and Using footage for more information about accessing this film.
Title: EASTERHOUSE : A NEW VENTURE - OPENING DAY
Reference number: 6008
Date: 1959, September 6
Sound: silent
Original format: 16mm
Colour: bw
Fiction: non-fiction
Running time: 10.40 mins
Description: General views of the children arriving at the (school?) building for church. General views of the children during the ceremony, then leaving the building as the adults arrive. The first Dedications to be performed in the Easterhouse Baptist Church.
Shotlist: title (0.17) ext., smartly dressed children arriving at building (school?) for the church ceremony. Some with parents, some carrying bibles (0.41) girls running towards camera smiling, more children arrive as does man in suit and hat who waves (1.24) boys walking, holding hands (1.45) children entering building (1.50) int. school, pan shot children sitting at assembly, Minister on stage, woman playing piano (2.09) c/u music sheet 'In my heart there rings a melody' (2.13) c/u woman's fingers at piano and c/u children's faces when singing (2.32) Minister on stage, pan assembly hall as children stand up, roll their arms and clap (3.13) collecting pot being passed along rows (3.42) children with pamphlets - Scottish National Hymnal for the Young- standing singing. Boys and girls seated separately (4.20) man in suit reading from bible, c/u pages Corinthians (4.40) gvs children head bowed in prayer (5.10) gvs children and adults in assembly hall, Minister on stage reading and gesticulating (5.42) c/u girl's feet tapping, boy yawning, girl scratching her leg (5.49) children in corridor (6.02) children huddled close to tape recorder (6.11) women in empty hall, one with a pile of bibles. Man in suit talking to two men on stage (6.24) busy corridor with smartly dressed children (6.48) ext., gvs parents meeting children (7.05) woman with cup of tea and biscuit, gvs people in room with cups of tea, Minister talking (7.18) children outside, smiling and looking at camera as people leave (7.43) young boys at water fountain, gvs people ext. building (8.10) smartly dressed older women entering building (8.18) int., women sitting down (8.34) older men. smartly dressed, standing talking (8.40) Minister seated at table, head in hands, brief view piano player (8.45) Minister standing at table (8.51) view from stage of assembly hall of people standing (8.56) The First Dedications ( 9.00) ext., three women, two carrying small babies, walk past camera (9.08) int., women walk across stage and take seats (9.19) Minister holding baby whilst talking, kisses the baby and hands it back to mother. Repeated with another baby. Women holding babies (10.10) piling up chairs in assembly hall (10.28) ext., rear view as women leave with babies (10.35) The End ( 10.40)