OPENING OF THE LIDO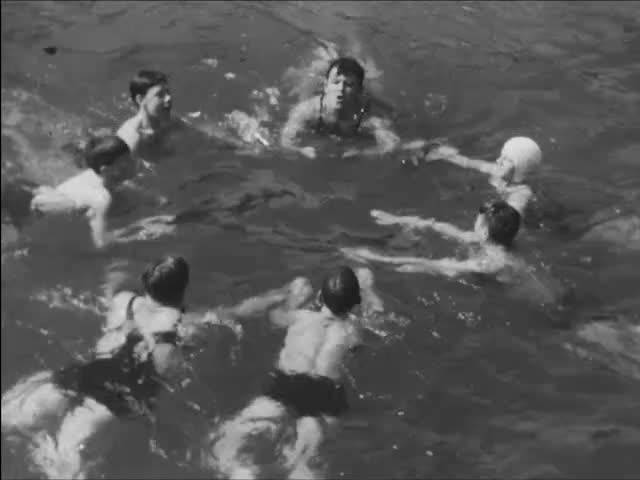 This video is not available to view remotely
Full length video - onsite only
Please read Understanding catalogue records for help interpreting this information and Using footage for more information about accessing this film.
Title: OPENING OF THE LIDO
Reference number: 5997
Date: 1930c
Director: [attrib. Dr Swanston]
Sound: silent
Original format: 9.5mm
Colour: bw
Fiction: non-fiction
Running time: 6.45 minsc
Description: Opening of an open air pool. General views of male divers performing, one is a swimmer with a disability. Possibly filmed at St Andrews (?).

See paper archive 3/8.
Shotlist: [shotlisted originally from 9.5mm film. Timings consequently added in, these are from control track on Beta SP]

Building with 'Swimming Pool Entrance' painted on roof. Pan shot site of pool. Sign 'Entrance pay here'. Pan shot cafe and terrace beside pool. Pan pool with chute and four tier diving board (00:00:45) title Opening of the Lido. Crowd shot, brief shot children. Swimmers racing in crowd lined pool, people diving. Bunting around pool. Fountain. Pan shot crowds at pool edge. Three dressed men smiling at camera, middle one smoking. Man with no legs in body costume, climbs diving board and dives in. He does two more different angled dives. Silhouette against sun of man bouncing on high board before performing fancy dive. Various men performing various dives, being dried off at pools edge by people with towels. C/u man swiming in water. Men diving into pool from edge. Boy running on large wheel by pool edge, then falling in. Men in towels and trunks, poolside. Smartly dressed man in hat and with cane walks poolside and ascends diving board. He fools about before 'falling' in. More men diving and gvs pool. Two men dive in sync. Comedian cleaner almost falling off board. More diving, various styles - silly and serious. Brief view crowd then synchronised swimming (00:07:42) The End (00:07:43)