SURREALLY SCOZZESE: Enrico Cocozza 1921 - 1997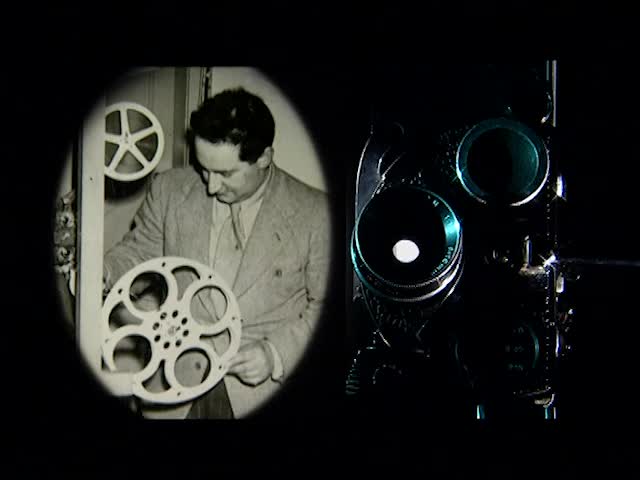 This video is not available to view remotely
Full length video - onsite only
Please read Understanding catalogue records for help interpreting this information and Using footage for more information about accessing this film.
Title: SURREALLY SCOZZESE: Enrico Cocozza 1921 - 1997
Reference number: 5975
Date: 2001
Sponsor: Scottish Media Group
Production company: Caledonia, Sterne and Wyld in association with Scottish Screen
Sound: sound
Colour: bwcol
Fiction: non-fiction
Running time: 23.45 mins
Description: Documentary on experimental film-maker Enrico Cocozza, exploring his life and work with excerpts from his films and interviews with those who knew him.

As well as Surreally Scozzese, the tape features the Cocozza films Chicks Day, Nine O'Clock and Petrol. See also refs. 1173, 1182 and 1110.

Enrico Cocozza, the son of immigrant Italians who ran a cafe in Wishaw, was one of Scotland's most unusual and remarkable film makers. Although an academic, he also pursued an 'underground' career making movies. Using amateur casts and crews and filming in and around his home town, he produced films like no other Scot of his generation. His movies ranged from the strange and surreal 'Nine O'Clock' to the pessimistic social realism of 'Chick's Day'. Limited by budgets and the simple resources of the amateur, Cocozza had unlimited enthusiasm, ideas and ambition.
Credits: nar. Daniela Nardini
lighting camera Bob Batchelor
sd. Brian Howell
costume Lynn Aitken
make-up Ainslie Currie
with thanks to Kenneth Broom, Neil Paris, Learning & Teaching Scotland telecine operator Tim Emblem-English
on-line ed. Joe Spiers
rostrum camera Chris Sinclair
ed. Peter Blackie
p. manager Aileen Kane
p. Les Wilson
Caledonia, Sterne & Wyld in association with Scottish Screen for Scottish Television 2001.
Shotlist: [following shotlist taken from VHS copy]

title superimposed over montage of various excerpts from Cocozza's films (00:00:35) [b&w] montage of Wishaw images and Cocozza's films (00:01:08) actor to camera, giving potted biography of the man, intercut with images of Wishaw, Cocozza at Glasgow University (00:01:52) stills of camera, him at camera (00:02:02) brief shot from film (00:02:07) ints film vaults, talking head John Archer, Chief Executive, Scottish Screen (00:02:20) i/v Janet McBain, Curator of the Scottish Screen Archive, foyer (00:02:29) shot of Wishaw Chip Shop 'The Golden Fry' (00:02:34) further i/v, intercut with some films (00:02:51) i/v John Archer, intercut with Petrol excerpts (00:03:59) i/v Janet McBain (00:04:10) ints film vault (00:04:19) i/v Jim Craig, intercut with film (00:04:55) actor quotes from Assunta, a novel by Enrico Cocozza, intercut with film (00:05:12) i/v Jim Craig, intercut with film, photographs, excerpt from Phantasmagoria (00:06:00) i/v George Cuthbertson in field talks about his work in Rico's films, excerpts from The White Lady, 1949, i/v George Cuthbertson again (00:06:48) actor again narrtaing story (00:06:55) Janet McBain talks about the Scottish Amateur Film Festival, intercut with various stills, cuttings and film (00:07:55) ints film vaults, i/v John Archer on his style of film making (00:08:15) stills from Lynne Ramsay's film 'Ratcatcher' (00:08:27) stills of Cocozza, Jim Craig talks about the making of Chick's Day, excerpts and actor narrating (00:09:06) i/v Janet McBain and more from Chick's Day (00:10:43) i/v Karen Lang and George Graham, children of leading actor in 'Chick's Day' talk about their dad's role (00:11:16) Nine O'Clock excerpts, Jim Craig talks about the film (00:12:09) actor talks about Ad Infernum Buddy 1952, excerpts (00:12:56) actor tells of his leaving Glasgow University and setting up 100 seat cinema behind cafe (00:13:29) Tom Hinshelwood i/v, he was boy at club, (00:13:45) excerpts from Glasgow's Docklands with John Archer commentating and i/v, further excerpts from experimental films 'Masquerade' 1953 (00:15:02) i/v Jack Weir, newspaperman on local paper and excerpt from Porphyria, 1959 (00:16:34) actor Bongo Erotico excerpt, the Living Ghost (00:18:19) Smart Boy Wanted, 1960 excerpt and commentary (00:18:33) Joe Farrell, former colleague at Strathclyde University, talks about Cocozza possibly being gay (00:19:17) gvs Wishaw cafe exts (00:19:24) Roberta Doyle, former student (00:20:01) still photo of Cocozza, Jim Craig tells of his later days, his headstone in his bedroom, montage to finish (00:21:01) Janet McBain saying its about time Cocozza was recognised with a proper place in Scottish film history, student talks, John Archer, Jim Craig, his funeral (00:23:09) ecs (00:23:45)