GENERAL ASSEMBLY OF THE CHURCH OF SCOTLAND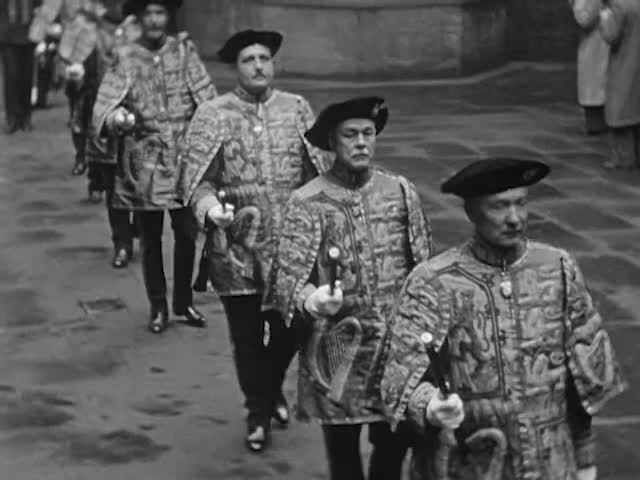 This video is not available to view remotely
Full length video - onsite only
Please read Understanding catalogue records for help interpreting this information and Using footage for more information about accessing this film.
Title: GENERAL ASSEMBLY OF THE CHURCH OF SCOTLAND
Reference number: 5938
Date: 1950*
Sound: silent
Colour: bw
Fiction: non-fiction
Running time: 15.39 mins
Description: Documentary of a General Assembly of the Church of Scotland (?) in Edinburgh c.1950, attended by many leading clergymen, civic heads and other distinguished guests.
Credits: ph. William Butler, George R. Gilchrist, William MacIntyre, Stanley C. Munro.
p. & ed. Stanley C. Munro
Shotlist: opening credits. Instead of the usual sunny "Assembly Weather" the day was cold, wet and dull. Nevertheless, Edinburgh looked attractive (0.21) shot of fountain at foot of Edinburgh Castle rock; m/s Scott Monument (0.49) Brief shot of Royal mile - traffic, pedestrians and St. Giles Cathedral in view (0.54) Principal Duncan and Dr. Charles Warr wait at St. Giles Cathedral to receive Viscount Cunningham, the Lord High Commissioner (1.06) l/s cars pulling up outside St. Giles, people alight, a crowd receives them at entrance (1.28) The Lord High Commissioner inspects the Royal Scots guard of honour. Gvs same - Royal Scots guards stand to attention in street as they are inspected. Brief shot pipe band. The High Commissioner and entourage enter cathedral (2.43) The assembly opens with worship in the cathedral. Gvs pipe band and guards march past. Gvs people exiting cathedral (3.49) the service over, the procession is formed. Gvs procession proceeds out of cathedral (men in robes and hats) (4.12) The procession to the assembly hall. People alight car at the assembly hall (4.25) First come the High Constables of Edinburgh, then the Lord Lyon King of Arms and his court, followed by the civic heads of Edinburgh, Glasgow, Aberdeen, Dundee and Perth. Brief shot procession (men in splendid regalia, some have wigs, staffs or maces) walking along street. Various shots of the aforementioned persons arriving by car. Procession again (6.45) Within the assembly hall photography is forbidden while the assembly is in session. So we take shots of other "activities". brief shot man and woman perusing books in a Christian/Theological bookstore (7.11) procession of men in military uniform or dressed in robes, splendid regalia, wigs, with maces etc. exits building (7.50) Meantime the women crowd to the guild mass meetings in the Usher Hall. gvs same - many women queing up on street (7.46) Some personalities of the Assembly. gvs same (9.11) Distinguished visitors - the Lord Chancellor, Lord Jowitt, and Mr Douglas Lewis, American Ambassador. gv same (9.40) In addition to attending the meetings of the assembly, Viscount and Lady Cunningham undertake many public engagements. Lady Cunningham visits the Lord and Lady Polworth Home for Children. Gvs same (10.50) Dr. J.H. Duncan and the Rev. Lewis L.L. Cameron (director of social service) present the staff and members of the local committee. gvs the aforementioned entourage (at the Polworth Home for Children?). Eventually they leave by car (13.06) Under the shadow of Arthur's seat and in the gardens of the Palace of Holyrood, Viscount and Lady Cunningham invite the members of assembly and friends to a garden party. Pictures could be taken only from the Palace roof. Gvs looking down on garden party from said vantage point (15.24) Three cheers from the pupils at Esdaile College for ministers' daughters. Ext. said college (15.39)

[Note: Shotlisted at 18fps. Total running time is 17.35 minutes @ 16fps]