MEN OF IRON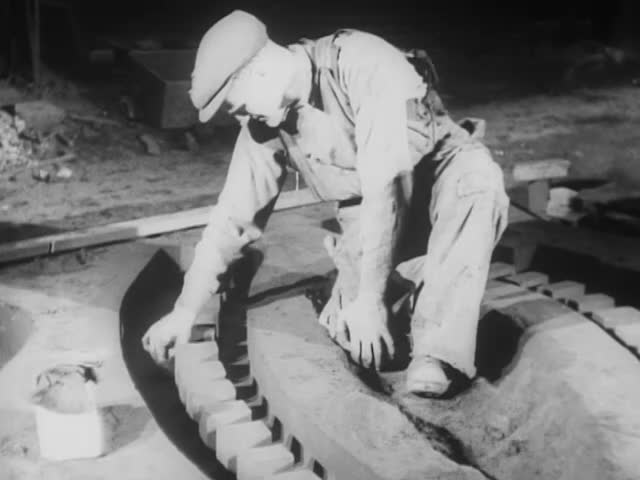 This video is not available to view remotely
Full length video - onsite only
Please read Understanding catalogue records for help interpreting this information and Using footage for more information about accessing this film.
Title: MEN OF IRON
Reference number: 5928
Date: 1947c
Director: d. Stanley Russell
Sponsor: Andrew Strang & Co., Hurlford
Production company: Thames and Clyde Film Co. Ltd
Sound: sound
Original format: 35mm
Colour: bw
Fiction: non-fiction
Running time: 17.50 mins
Description: Informal overview of iron propellor manufacture at the Blair Foundry of Andrew Strang & Co., Hurlford in Ayrshire, c.1947.

John Hume, industrial historian comments on Men of Iron (1947), in 2002 :
Strangs of Hurlford was a name to be conjured with, a firm with very distinctive products - cast iron propellors - the making of which demanded the utmost skill on the part of an experienced and committed workforce. The success of the business was utterly dependent upon that skill, so that the partnership of tradesmen and bosses - and clerical staff - was a real one. That sense of interdependence colours the whole of this fascinating film, which appears to have been made largely for showing to the workforce. This is not a dry didactic promotional film, but a warm, witty, sympathetic view of shared enterprise, commissioned by a firm with a real affection for its workforce and for its products, and illustrating in a succinct and informative way how those products were made. The sense of sharing in a worthwhile enterprise, of real pride in work, gives this film humanity that transcends the technicalities of the processes involved. It will stick in your mind.
Credits: recorded by Leevers, Rich
comm. s. James McKechnie
comm. w. Jack House
continuity Jan Jack
ph. Stanley Russell
ass. by Tom Bothwell
The Players ? With an all star cast of 72
ecs
Men of Iron, The End
Presented by Andrew Strang & Co. Limited, Hurlford, Scotland
Produced by Thames and Clyde Film Co. Limited, 41 St. Vincent Place, Glasgow.
Shotlist: Reel 1
Credits, over backdrop machinery (0.33) car, registration EFY, drives into Blair Foundry of Andrew Strang (0.50) chairman Stuart Fraser disembarks (1.15) c/u photo of John C. Charlton, Managing Director (1.28) Margaret Borland, secretary; workforce Jubilee photograph marking centenary of foundry, including brief shot photographer behind tripod; posed group of female workers (2.10) pan ext. foundry (2.27) crane driver John Pearson at controls, view from cab (2.42) int. patent workshop, staff at work, Fergie Campbell and Will Black (3.12) ext. Johnny Findlay examining wooden evaporator dome pattern (3.29) large wooden object being manoeuvred (3.39) patent of sewage pump engine for Boxford cylinder being lowered into pit in floor of workshop (4.45) c/u Margaret Borland on phone (5.09) Nicholas Higgins working on intricate moulds for gratings (5.30) Willie Gibson mixing sand and oil, making mud pies (5.38) Alex Dean at work, Johnny Morris the filter (6.07) John Chapman, eldest employee, at work hammering hot metal rod on anvil (6.30) construction of moulds for propellor manufacture. Casting of large propellor (7.20) Goldie the moulder and Jimmy Wilson building up propellor mould (8.10) Bob Morris, building up fires to bake mould (9.35) large hood being manoeuvred by crane; ls Dick the craneman (10.10) 916ft

Reel 2
Inside of mould where molten iron will flow to cast propellor blades (0.20) McCafferty tapping the furnace - taking small amounts of molten iron out (0.43) pan mould, gvs men pouring liquid metal into small grate moulds (2.00) lifting of large vat of molten iron by crane (3.40) Joe Jones (3.45) sparks flying as men prepare to tip molten iron into mould (5.10) Duffy and James Mason chipping mould away from cast 2ft propellor (5.32) Davie Miller and Willie Jones working 14 tonne propellor in balancing machine (6.06) Willie Miller and Willie McCristie at work finishing off propellors (6.24) Mr Charlton at key slotter machine (6.37) large propellor being loaded on flatbed truck, 'John McCall Kilmarnock, Glasgow and London' painted on side (7.08) man placing sign 'A. Strang & Co. Ltd. Hurlford' on back of truck, which drives off (7.30) The End (7.40) 691ft