MAGNUS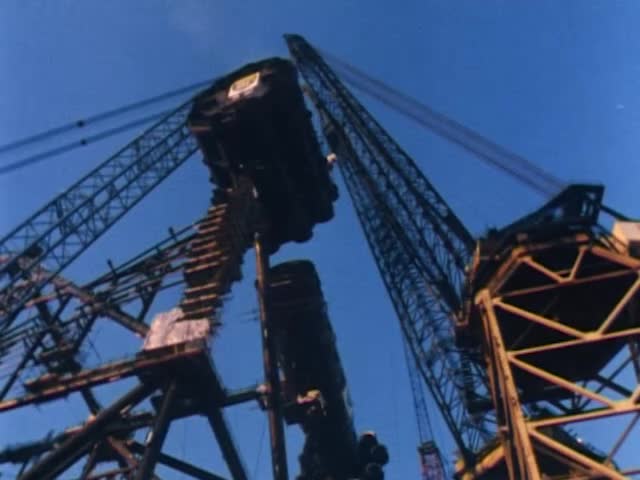 This video is not available to view remotely
Full length video - onsite only
Please read Understanding catalogue records for help interpreting this information and Using footage for more information about accessing this film.
Title: MAGNUS
Reference number: 5922
Date: 1983
Director: d. Charles Leigh Bennett
Sponsor: BP
Production company: British Films
Sound: sound
Original format: 35mm
Colour: col
Fiction: non-fiction
Running time: 21.35 mins
Description: The construction and erection of the Magnus oil rig, the largest and most expensive steel structure at that time in the world.

See also BP Video Library at http://www.bpvideolibrary.com/. All requests for a copy of this title should be directed to BP Video Library.
Credits: p. John Wiles
ph. Mike Herd
ed. Simon Sanders
m. Marc Wilkinson
anim. Brian Stevens Studio
Shotlist: begins with graphic map locating oil field between Northern Scotland and Northern Norway; animation of oil rig and sea; animation continues under sea showing oil rig while explaining the distribution process of oil and gas; title, 'Magnus' (1.32); location: Cromarty, Firth; long shot of sea and land; aerial shot of cranes and site where the platform will be built (1.56); sequence of industrial construction process of platform; underwater shots of pipe lines (3.40); aerial shots of several modules for the platforms which will be the workplace of 200 'oil men'; safety training for men (4.25); aerial shots of platform on land (Dec. 1981): 'the largest single steel structure in the world' (5.00); close shots of platform being prepared for move (6.30); men at meeting before launch (6.20); shots of platform being pulled at sea; raft is flooded and erection of platform begins (10.20); plan goes wrong (11.40); platform is 'left hanging' overnight; rescue operation begins (12.40); shafts have broken under water; examination of underwater damage (14.20); attempts to tug the platform (15.20); operation completed (16.25); modules for platform taken by boat and arrive at the platform, July 1982; shots of rig against sky as modules are attached; bad weather slows progess (18.00); flaring tower is finished (19.00); 1000 men arrive to complete internal construction of rig; shot of computer control room (19.55); pumps begin operation (20.28); aerial shots of working rig conclude film (21.35)