LOST INDEPENDENCE?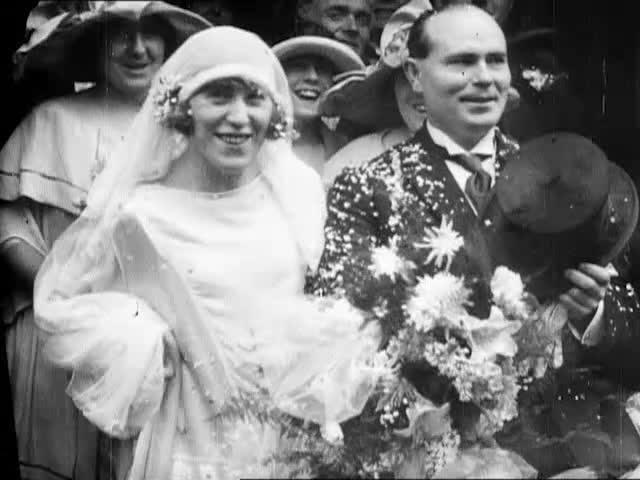 This video is not available to view remotely
Full length video - onsite only
Please read Understanding catalogue records for help interpreting this information and Using footage for more information about accessing this film.
Title: LOST INDEPENDENCE?
Reference number: 5890
Date: 1923
Production company: Green's Film Service
Sound: silent
Original format: 35mm
Colour: bw
Fiction: non-fiction
Running time: 1.30 mins
Description: The marriage of Mr. Arthur Mone, formerly Independent Labour Candidate, to Miss Elizabeth Dunn, at St. Alphonsus', Glasgow on 27th November 1923.

Bride ran the Dunns Lemonade factory during the First World War. Arthur Mone was Independent Labour Candidate 1918/1919.
Credits: [artwork on title carries logo FN for Forest Niven, cartoonist Glasgow Evening Times and employed by Green's Film Service from Autumn 1920.]
Shotlist: LOST INDEPENDENCE? The marriage of Mr. Arthur Mone, formerly Independent Labour Candidate, to Miss Elizabeth Dunn, at St. Alphonsus', Glasgow (0.12) the wedding car deposits several little girls (flower girls) and bridesmaids, before the bride and her father - everyone dressed in their finery (0.26) everyone clamours to have their photographs taken on the steps of St. Alphonsus Church, mainly the bride and groom are pictured smiling, but then the camera pulls away to reveal many friends and relations [camera sometimes failing to squeeze everyone into the frame!] (1.27) GREENS FILM SERVICE, GLASGOW AND LONDON (1.30)