PILLS FOR ALL ILLS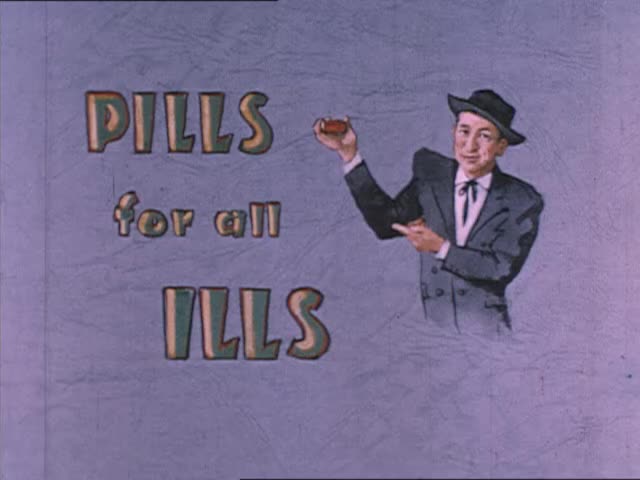 This video is not available to view remotely
Full length video - onsite only
Please read Understanding catalogue records for help interpreting this information and Using footage for more information about accessing this film.
Title: PILLS FOR ALL ILLS
Reference number: 5874
Date: 1956
Director: filmed by W. S. Dobson
Sound: silent
Original format: 16mm
Colour: col
Fiction: fiction
Running time: 15.18 mins
Description: A salesman selling energy pills has no luck and two elderly gentlemen have a mix-up over a cut hand and a bloody bandage.

Winner of the Richard Massingham Trophy (for a film made in the Massingham manner) at the Scottish Amateur Film Festival of 1956. Fiction category. Adjudicators comment - "This film got off to a bad start because of its pretentious title. It tried to be funny with alleterative titles. This was a really good country film - rather a rare thing in either professional or amateur work. Like most country stories the film was also a bit on the long side, but it had its own charm. The colour was good and also the characterisation and acting.'

One of a series of films made by William Dobson of Colinton (a former ECS Secretary and Vice Chairman of SAAC) The series ran as follows: ref. 1658 WEEKEND QUARTET, ref. 3078 TRIO IN TROUBLE, ref. 5874 PILLS FOR ALL ILLS, and ref. 7205 COTTAGE TO LET. The Archive preserves all these titles.
Credits: The picture perpetrated by W.S. Dobson
Shotlist: title Gvs of farmhouse with ducks on a pond in the garden. Two men sit eating lunch outside the house as a salesman approaches. Doctor hands woman who answers door a pamphlet: All about Dr Swindles Famous Zippo Vitality Pills. Zippo Pills to put new vitality into aging bones. Rob Your system of that tired feeling with Zippo. She shuts the door on him and he leaves the premises. (1.23) On leaving, he meets two men on their way to buy milk: they do not want his pills either. One of the men eating lunch reads a paper with the headline Easy Fortunes the Gangs fight For and watches as the man pays for the milk with a wad of cash. The salesman goes to another house where there is no answer. He lets himself in but his briefcase opens and the contents spill all over the floor. He leaves this house hurriedly. (3.33) The lunching men go back to work on the farm and the two gentlemen who bought milk go back to the empty house, to discover the door is ajar. Apprehensively, they enter the house, brandishing a stick of wood. (4.48) Inside, they discover the salesman's pamphlet. They leave the house to go fishing in a nearby river. (8.08) Back home, one of the men cuts his hand opening a tin and flags down a car full of women looking for a lift to the chemist. He drops the bloody bandage before getting in their car. Exts of the chemists, intercut with the other man going back to the house via the farm where the farmers are stamping on peat, to discover his friend is not there. (11.01) He finds the bloody bandage, flags down the local policeman and explains the story, suggesting that he may have been harmed by the farmers who saw his money and were stamping on peat, as if burying a body. (13.17) However, the ladies' car pulls up and the first man is returned safe and well. (14.06) The salesman sees the policeman pass on his bike and offers him his pills, which he takes as an insult because they are for old people, and chases him away. The End (15.18)