HOLIDAYS AT HOME - 1945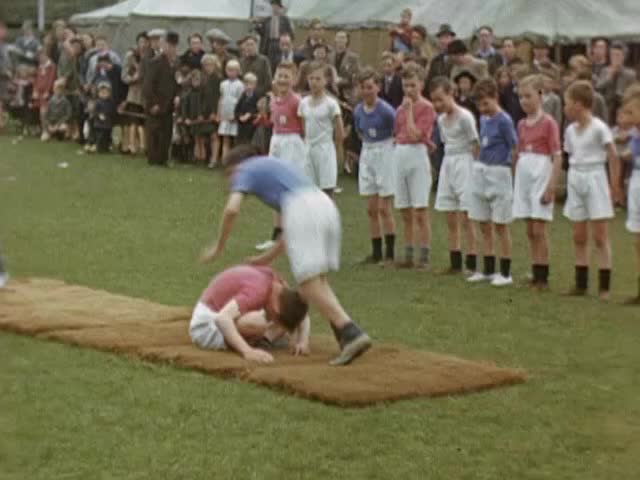 This video is not available to view remotely
Full length video - onsite only
Please read Understanding catalogue records for help interpreting this information and Using footage for more information about accessing this film.
Title: HOLIDAYS AT HOME - 1945
Reference number: 5585
Date: 1945
Director: filmed by William Stewart
Production company: Hamilton Town Council
Sound: silent
Original format: 16mm
Colour: col
Fiction: non-fiction
Running time: 8.59 mins
Description: Scenes from a "Holiday at Home" event organised in Hamilton in 1945. Shows various events, stalls and crowd scenes.

William Stewart was Burgh Librarian. See also refs. 1494 and 3423.

Credits: p. Hamilton Town Council
ed. W. Stewart
titles R. Milne
Shotlist: [shotlist retimed from speed corrected tape, manual control track]

titles (0.19) Follow the band to Douglas Park brief shot Boy's Brigade bugle band (0.31) Sports? Let's 'skip' over this girls skipping race, shots of crowd (1.22) ? Who are these Important People two men at ship launch (?) and at sports day, wearing yellow armbands. Boy's Brigade band, c/u adult with bass drum (2.18) All the fun of the Fair ext. Gypsy Leonora's stall, crowd of people; shying balls at a tower of cans; shove ha'penny (2.50) Physical 'Phitness' Display - Try This before Breakfast boys somersaulting, watched by crowd (3.52) Accidents will happen, is there a doctor in the house? police lifting boy into tent (4.27) Pick your fancy for the 3.30 donkeys being ridden and led by children (5.00) Policeman's Holiday? Policeman pushing a roundabout (5.11) The Fruits of Victory man with megaphone, winners receiving prizes (5.46) Entertainers - rehearsed girl performing comic "Cossack" dance to piano; skit set in a classroom (6.51) -and unrehearsed two judges dancing impromptu jig (7.37) And now gentlemen, take your partners and dance the day out couples dancing to jazz band; c/u some women partnering each other (8.52) So ends our holidays at home THE END (8.59)