LAUNCH OF S.S. 'WAROONGA': 28th May 1957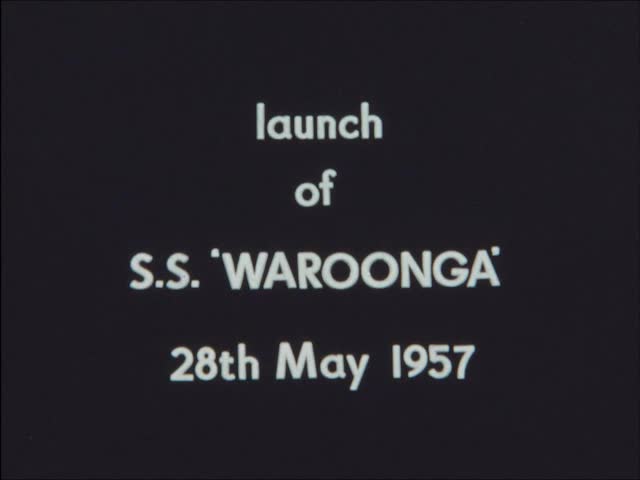 This video is not available to view remotely
Full length video - onsite only
Please read Understanding catalogue records for help interpreting this information and Using footage for more information about accessing this film.
Title: LAUNCH OF S.S. 'WAROONGA': 28th May 1957
Reference number: 5018
Date: 1957
Sponsor: Barclay, Curle & Co. Ltd.
Production company: Templar Film Studios, Glasgow
Sound: silent
Original format: 16mm
Colour: col
Fiction: non-fiction
Running time: 10.00 mins
Description: A record of the launch of the S.S. 'WAROONGA' on Clydeside, in 1957. This ship was built for the British India Steam Navigation Co. Ltd. by Barclay, Curle & Co. Ltd.

Technical note: A&B Rolls scanned and edited at National Library of Scotland Moving Image and Sound Collection, May 2022. This may not be the order in which the original film runs.
Credits: built for British India Steam Navigation Co. Ltd. by Barclay, Curle & Co. Ltd
naming ceremony performed by Mrs. James Gilchrist
produced for Barclay, Curle & Co. Ltd. by Templar Film Studios, Glasgow
Shotlist: ROLL A
gvs launch of S.S. 'WAROONGA' at Clydeside, taken from various angles (0.34) shots of crowds of people on docks, dressed smartly for the occasion, as they congregate for the launch (1.19) minister blesses ship and the naming ceremony is carried out by Mrs. James Gilchrist; the ship moves down slipway [various angles] (2.22) gvs ship moving down slipway, shots of workers waving their hats and watching from sidelines (3.06) further gvs as ship is escorted by tug along river, the shipbuilding yards clearly visible as it passes (4.25) medium c/u of a few workers watching the ship [possibly posed for camera] (4.33) m/s ship passing along river, cranes and shipyards clearly visible in background (4.46) -blank- (4.49) THE END (5.00) 180ft

ROLL B
credits and title [see above]