CHURCH OF SCOTLAND SEASIDE MISSION WORK AT NORTH BERWICK AND PRESTWICK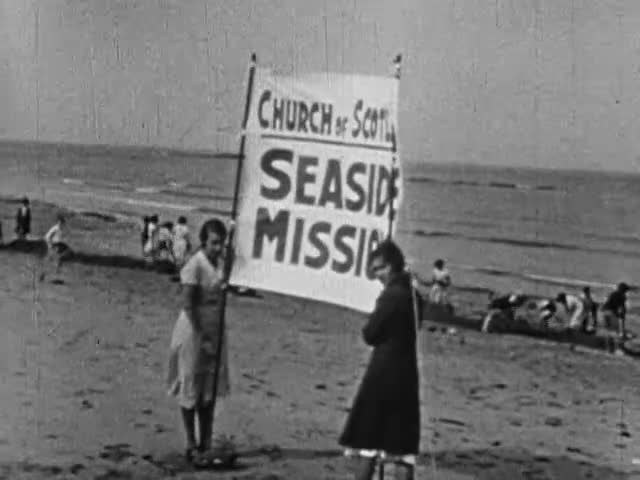 This video is not available to view remotely
Full length video - onsite only
Please read Understanding catalogue records for help interpreting this information and Using footage for more information about accessing this film.
Title: CHURCH OF SCOTLAND SEASIDE MISSION WORK AT NORTH BERWICK AND PRESTWICK
Reference number: 5001
Date: 1945*
Sponsor: Church of Scotland Home Board
Sound: silent
Original format: 16mm
Colour: bw
Fiction: non-fiction
Running time: 10.15 mins
Description: An amateur record of Church of Scotland seaside mission work on the beaches at North Berwick and Prestwick. Mostly features crowds of children singing and playing, although there is footage of an outdoor swimming gala.
Credits: The Home Board presents some examples of Seaside Mission Work

Shotlist: title (0.05) ON THE SANDS AT "THE AULD TOON OF AYR"; CHILDREN DELIGHT TO VISIT THE SANDS AT NORTH BERWICK (0.13) crowds of children and adults gather on the sands to take part in Church of Scotland Seaside Mission AN OBJECT LESSON TO A LARGE CROWD; ACTION CHORUSES "DO YOU WANT A PILOT" AND "SAILING HOME" crowds of children watch a mime show and take part in singalong (1.38) some toddlers take part (1.45) view out to sea (1.48) PRIZE DAY gvs same (1.59) NO SERVICE IS COMPLETE WITHOUT AN "ORGANIST" shot of a woman playing organ on beach (2.07) INTERESTED FRIENDS LEND A HAND AT THE GAMES shot of adults posing for camera, and gvs children singing etc (2.26) gvs seaside mission, with girls and boys enjoying games, hymns and stories (3.06) GLASGOW HOLIDAY BOYS SAMPLE THE BOX THAT IS "NEVER EMPTY" (CARAMELS) boys line up in huge queues on beach to receive a sweetie (3.21) ON WET DAYS THE ABBEY CHURCH HALL WAS PACKED shot of sign outside church hall telling kids to 'Come In! You'll Enjoy It!' (3.33) A PICNIC TO CANTY BAY WITH CHORUS ACCOMPANIMENT gvs children singing and view of bay, and Bass Rock (3.56) CHILDREN FROM AN EDINBURGH BOARDING SCHOOL brief shot of these children outside house (4.05) shot of children building sandcastles and dam at waters edge (5.11) A VISIT TO THE SWIMMING GALA AT THE POOL gvs open air swimming pool with shots of divers display from dales (6.14) BACK TO THE SERVICE AFTER THE GALA gvs same with farewell speeches (6.49) THE KIRK "SKAILS" crowds disperse on beach (7.01) ON THE SANDS AT "THE AULD TOON OF AYR" crowds gather on sands for Church of Scotland Seaside Mission (7.21) HAPPY SERVICES AT STEVENSON, AND DISTRIBUTION OF LITERATURE gvs same, children gather in front of temporary 'Portakabin' type building with 'Church of Scotland Home Board 1937' written on it (7.36) MEADOWPARK CHILDREN ENJOY A GAME AND SING THEIR CHORUSES gvs same (7.49) CROWDS OF BOTH YOUNG AND OLD GATHERED DAILY AT PRESTWICK gvs beach scenes and crowds of children gathering for service, THE FAVOURITE CHORUS, "CLIMB, CLIMB UP SUNSHINE MOUNTAIN" includes shots of changing 'huts' on the beach; shot of children receiving instructions about a Treasure Hunt (10.15)