MÀIRI MHÒR: Her Life and Songs = MÀIRI MHÒR: Na h-orain'sa Beatha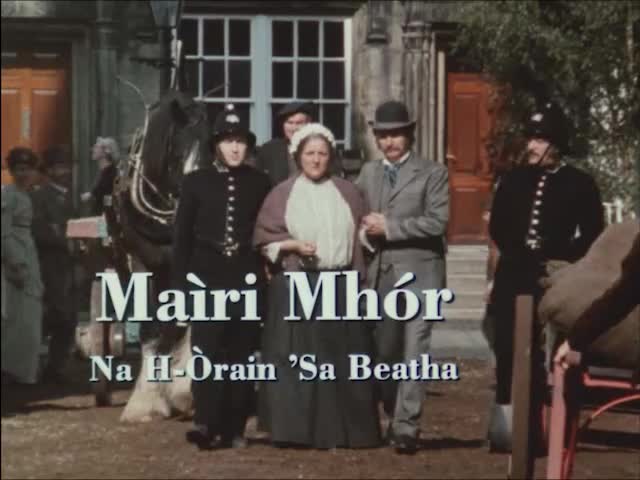 This video is not available to view remotely
Full length video - onsite only
Please read Understanding catalogue records for help interpreting this information and Using footage for more information about accessing this film.
Title: MÀIRI MHÒR: Her Life and Songs = MÀIRI MHÒR: Na h-orain'sa Beatha
Reference number: 4969
Date: 1994
Director: d. Michael Alexander
Sponsor: CTG, Skye & Lochalsh Enterprise, Western Isles Enterprise, Skye & Lochalsh Leader Group, BBC Scotland
Production company: Freeway Films
Sound: sound
Original format: 35mm
Colour: col
Fiction: fiction
Running time: 60 mins
Description: A drama-documentary, written by John McGrath, recounting the life story of songwriter Màiri Mhòr nan Òran (Mary MacPherson). After being wrongly imprisoned in 1820 for stealing, she took to composing some of the most evocative and enduring music in Gaelic.

Shot on Skye and featuring the unmistakeable voice of Catriona-Anna Nic a' Phi (Catherine-Ann MacPhee), the film documents Mairi Mhor's passionate resistance to the displacement of Scottish communities during the Highland Clearances through songs that remain resonant to this day. A commemorative flagstone to Màiri was unveiled at Makars' Court, Edinburgh in 2022.

Please note the British Film Institute preserve 35m film master materials.
Credits: [Executive Producer: John Archer
Producer: John McGrath
Screenplay: John McGrath, Simon Mackenzie
Photography: Mark Littlewood
Editor: Bert Eeles]

Cast
Alyxis Daly
Ceit Kearney
Sim Maccoinnich
Andrew Stanson
Pauline Lockhart
Artair Donald
Derek Anders]
Shotlist: Biographic feature film on Gaelic song writer Mary McPherson. Drama on national conflicts between Gaels, Celts and other people driven from their homeland. Mary McPherson, a young widow leaves Syke for Inverness to nurse the wife of an English army officer. Wrongly accused of stealing she is sent to prison for 42 days. Anger and shame drive her to write songs in 1871, at the age of 51. [synopsis from British Film Institute athttp://collections-search.bfi.org.uk/web/Details/ChoiceFilmWorks/150434977# ]